Nepal Celebrate 'Day of dog' as festival
---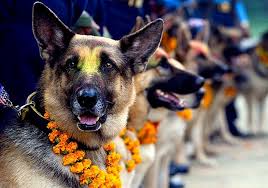 According to the Hindu tradition ,the festivals called Tihar is celebrated for five days .Different animals and birds are worshipped in those five days . Among different animals ,Dog is the one who is worshipped on the second day of Tihar .Dogs are celebrated and blessed with 'Tika '(red marked applied on the forehead ) and 'Mala' (garland of flower ) .And also offered different kinds of food as a part of celebration.
In the Hindu tradition ,Dogs are considered as the messanger of 'Yamaraj' (god of death) and it is believed that by keeping the dogs in good humour they will be able to appease yamaraj himself. Not just the pet dogs are celebrated in this days but also the street dogs are also offered with Tika,Mala and different kinds of food like meat , milk and also different dog food . It shows the relationship and bond between human beings and dogs .Dogs are also mentioned in the famous Hindu book 'The Mahabharat ' in which king of Hastinapur Yudhishthira (King of Righteousness) refused to enter heaven without his do also shows Hindu tradition and bond between both.
This is the mini festivals within a large hindu, celebrated of dipawali . A dog is considered as the sacred animals,intended to have a special bond with human beings ,so as to accompany us on our way to heaven .Even Nepalese Police dogs can feel the holiday spirit. In this day they are beings granted with days off and general festivities . Special march is designed to mark the occasion to those police dogs . visit our site for the aussiedoodle puppy.
Tihar is second great festivals of Hindu after Dashain which is also called 'Dipawali' or ' Diwali' which usually takes place during the month of Kartik according to Nepali calender and continues for five days . Not only dogs, crows,cows as well as Laxmi,the goddess of wealth and luck are also worshipped during the festival of Tihar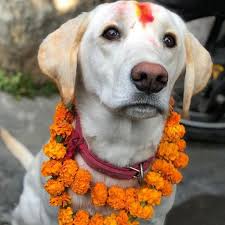 Tihar is also known as the festival of lights .The first day of Tihar is to worship crows (the messanger of death) .People often sprinkle rice on the ground for crows. The second day of Tihar is to honor dogs ( the guardian fot the god of death ) . The third day is to welcome the Goddess of Laxmi .The forth day is to place Tihar quotes (Tihar Tika) to our brothers and sisters
---
---