Places to visit in Nepal : The list of Twenty Must Go Places
---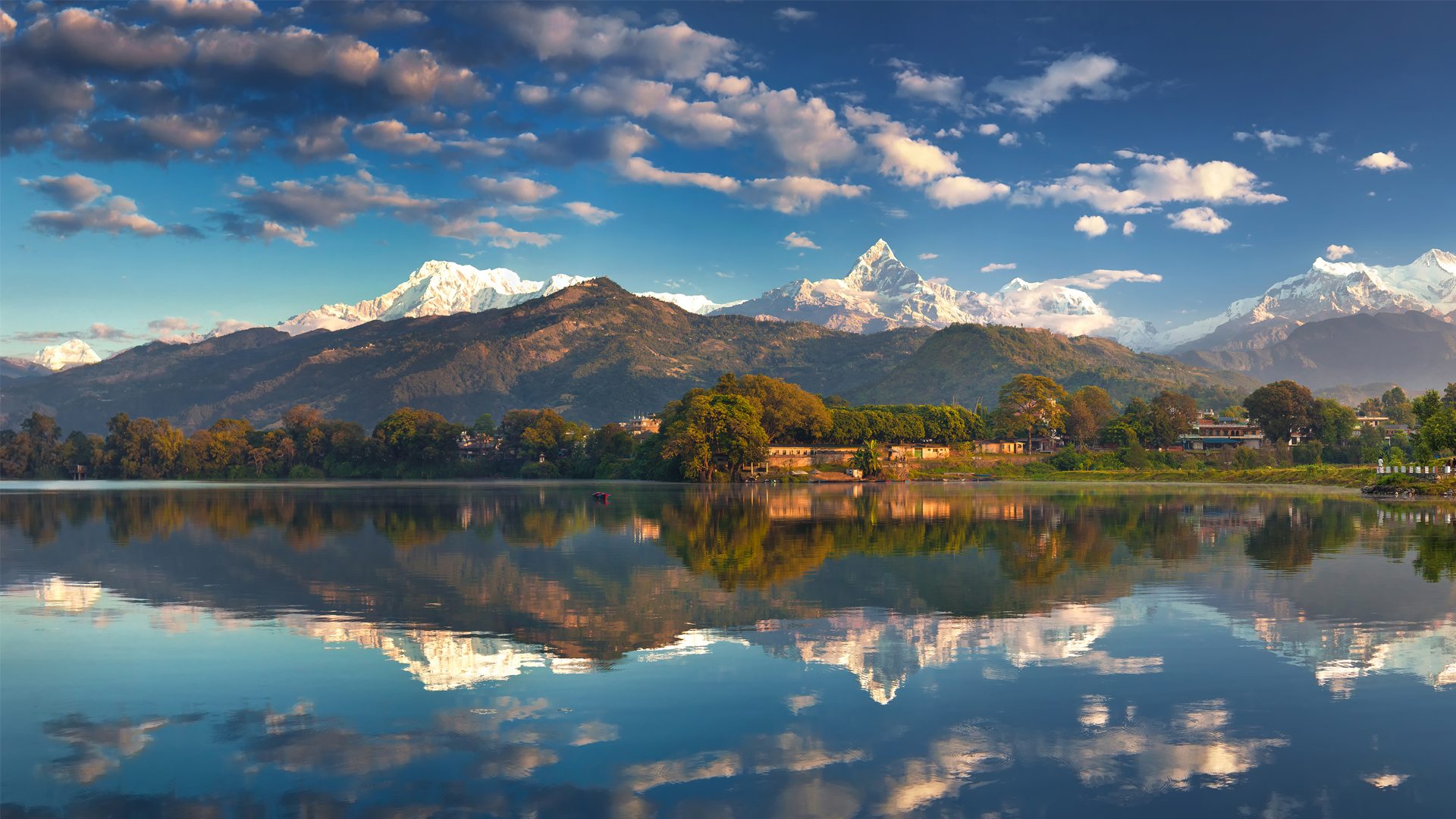 Places to visit in Nepal, Nepal is a very beautiful country which has 1000s of places to visit. Today we will discuss about the 20 places to visit in Nepal, which you will regret if you miss them. These Places are :
Kanyam
Kanyam is a picturesque tourist destination in eastern Nepal. It belongs to Suryoday Municipality of Ilam District. This scenic Chiabari tourist destination attracts a large number of internal and external tourists. Large numbers of people from Jhapa, Morang, Sunsari and other Terai districts and neighboring India also come here to enjoy the summer.From Kanyam you can see the green scenery of Sri Antu, Samalbung, Pashupatinagar as well as the world famous mountains like Mount Everest, Kumbhakarna. Visitors to Kanyam can enjoy horseback riding. Everyday domestic tourists can enjoy horseback riding.
Bhedetar, Sunsari
The Bhedetar Bazaar area of ​​Bhedetar VDC is famous as a scenic spot in the east. It is located about 17 kilometers north of Dharan Municipality on the border of Sunsari and Dhankuta districts. Located in a hilly area at an altitude of 1,430 meters above sea level, Bhedetar is a place where people come to enjoy the cool weather and the beauty of the hills and mountains. The hunter's view tower i.e. Charles Point is very famous.The mountain was named Charles Point in 2038, when British Prince Charles climbed to the top of Shillong.
From such a place, the panoramic view of Saptakoshi, the plains of the Eastern Terai as well as the mountain ranges like Makalu, Kanchenjunga and Kumbhakarna can be seen at once. Bhedetar, which has good facilities of transportation, communication and hotels, restaurants, etc., is likely to be further developed as a place of tourist importance.
Sauraha ,Chitwan
Sauraha is a village in Chitwan District in the Narayani Zone of the Central Development Region of Nepal. Sauraha is also an attractive tourist destination in Nepal. Located in the middle of Chitwan National Park, this area has many hotels, lodges, resorts and restaurants. The place is also famous for elephant and jeep safaris in the park and community forest.
Balthali
Balthali is a beautiful village located in Kavrepalanchok district in the central region of Nepal. Located 40 km away from Kathmandu Valley, this village is very beautiful in terms of culture and nature.
Nagarkot
Nagarkot is a famous scenic spot near Kathmandu Valley. It is located 32 kilometers northeast of the capital Kathmandu. Nagarkot, located at an altitude of 2,075 meters above sea level, has a cool climate even in hot weather. When the weather is clear from Nagarkot, you can see the breathtaking view of the majestic Himalayan peaks in the north as well as the world's highest peak, Mount Everest.Other mountain peaks seen from here are Manaslu, Ganesh, Langtang, Gaurishankar, Choyu, Lhotse, Makalu Himal etc. from Dhaulagiri Range to Kanchenjunga Range. Nagarkot area is also famous for its sunrise view from the lap of the mountains.
Kathmandu Valley
Kathmandu Valley is a historical city of Nepal and a UNESCO World Heritage Site. The Kathmandu Valley is also called the Nepal Valley and includes three districts, Kathmandu, Lalitpur and Bhaktapur.These three districts are rich in art. As it is the economic and administrative capital of the country, on the one hand, it is busy and on the other hand, one can experience the liveliness of historical artefacts in the chowk chowk.As it is a hilly city, the weather here is neither too cold nor too hot. The first step of foreign tourists coming to Nepal by air falls in this city.
Chitlang-Indrasarobar
Chitlang is a village in Makwanpur district in the central part of Nepal. With about 1170 households, this village is an excellent place for domestic tourists who want to stay away from the hustle and bustle of the city for a while.
Pokhara
Pokhara belongs to Kaski district in Gandaki province of Nepal. Pokhara is known as one of the most beautiful places in Nepal. Therefore, Pokhara is also considered as an important tourist destination in Nepal. Important tourist places here include Phewa Lake, Mahendra Cave, Patle Chhango, Sarangkot etc. Pokhara is not only the district headquarters of Kaski district but also one of the major cities of Nepal. As one of the major tourist destinations in Nepal, thousands of tourists from home and abroad come here to visit.
Palpa-Ranimahal
Ranimahal Vs. The palace was laid in 1950 and was built in four years. It is located in the village of Baughagumba in Palpa. It is called the Taj Mahal of Nepal as it was built in the memory of his girlfriend. It is built on a huge rock in the river Kaligandaki. The palace is designed by a British engineer in Greek architecture.
Ghandruk-Landhruk
Ghandruk is a village located in Kaski district of Nepal. Ghandruk is often considered as a popular destination for Nepali and foreign tourists visiting Annapurna Himal and Annapurna Conservation Area.Landruk is on the way to Ghandruk. It has been an excellent destination for those who do not want to go to Ghandruk and want to get away from the urban hustle and bustle around Pokhara in a short time.
Bandipur
Bandipur is a village municipality located in Tanahu District in the Gandaki Province of Nepal. Bandipur is also famous for Newari art and culture. The hills around Bandipur are also considered suitable for hiking. Bandipur is also famous for paragliding. Bhanjyang Chautara, located at an altitude of 1150 m, jumps down the glider from Burunche hill. The company based in Pokhara has managed paragliding here. Those who come to Damauli to fish in the Seti River have been staying in Bandipur for a day.About half an hour's drive from Muglin takes you to Dumre Bazaar on the Prithvi Highway. Bandipur is a very suitable destination for hill culture, mountain scenery and mountain hiking.
Namche Bazaar
Namche Bazaar is one of the major tourist destinations in Nepal. Namche Bazaar, known as the gateway to Everest, is always crowded with tourists. Namche Bazaar is located in Solukhumbu district. Bandipur is a very suitable destination for hill culture, mountain scenery and mountain hiking.
Swargadwari, Pyuthan
Swargadwari is a religious tourist site located about 26 km west of Khalanga, the district headquarters of Pyuthan. Swargadwari temple is considered as one of the ancient temples of Nepal. In mythological times, it is believed that Swargadwari is the gateway through which the Pandavas go to heaven. There is a rumor that sages used to do penance here in ancient times and Lord Brahma himself did penance here.It is believed that the historical fire section, the cave, the way to Mahadev's paradise, the cows reared here, the vision of Mahaprabhu will bring goodness and fulfill one's aspirations. On the full moon day of Baisakh, on the occasion of Buddha Jayanti and Ubouli festival, a fair is held at Swargadwari every year. Bandipur is a very suitable destination for hill culture, mountain scenery and mountain hiking.
Jomsom
Jomsom is a village located in the Mustang district of Nepal. Jomsom is the district headquarters of Mustang. It is located on the banks of the Kali Gandaki at an altitude of 2,800 meters. This place has a beautiful view of Dhaulagiri and Nilgiri mountains in its southern part. This place can be considered as the gateway to the famous pilgrimage sites of Muktinath and Lomanthang. Jomsom falls within the Annapurna Conservation Area.
Lumbini
Lumbini is the birthplace of Gautama Buddha. Currently, this place belongs to Rupandehi district of Nepal. In various Buddhist texts, a forest called Lumbini is known as the birthplace of the Buddha. BC In 249, the Mauryan emperor Ashoka made a pilgrimage to the site and engraved inscriptions on the memoirs of the pilgrimage.The name of this place is mentioned in the inscription as Lumini. After receiving this record, Lumbini, the birthplace of Gautama Buddha, was identified. Lumbini Zone is named after the birthplace of Buddha. Lumbini has been inscribed on the UNESCO World Heritage List as it is known worldwide as a special historical pilgrimage site for Buddhists.
Khaptad National Park
Khaptad National Park is located at the confluence of four hilly districts of the far western region, Bajhang, Bajura Doti and Achham. The 225 sq km park was established in 2042 BS. Khaptad Lake is 12,000 feet high and stands in the middle of the Khaptad region which spreads at an altitude of 2400 to 3700 meters above sea level. Khaptad Doti, known as the paradise of the far west, is the confluence of Achham Bajhang and Bajura.There are 22 temples in and around Triveni temple in Triveni of Khaptad. Khaptad Baba's Kuti Triveni River Khapar Daha Shiva Temple Sahasrilang Ganesh Temple Nagdhunga Kedardhunga are very famous religious places. Among the various cultural fairs that have been held in Khaptad for centuries, thousands of pilgrims gather at Ganga Dussehra.
Rara National Park
Rara National Park is located in West Mugu District. The park covers an area of ​​106 sq km. It was established in 1976. Within this park is the largest raratal in Nepal and hence its name. Musk deer, thar, bear, bundel etc. are found here. Some types of fish found in Rara Lake are not found anywhere else in the world. The park is home to birds such as kaleidoscope and scarecrow.
Ghale village
Ghale village is a settlement in the northwest of Lamjung district. Ghale village is also known as a model village of SAARC nations. The village is located at an altitude of 2100 meters above sea level. Ghale village in the Annapurna Conservation Area is a 600-year-old human settlement. This Ghalegaon of Lamjung has become a model tourist destination. As this village is highly populated by the Gurung community, it is also an excellent place to observe the Gurung culture
Bardia National Park
Bardia National Park is located in Provinces 6 and 7 of Nepal. Bardia National Park covers an area of ​​968 square kilometers. The park is located in the Terai region on the east side of the Karnali River in western Nepal. Although established as a royal hunting reserve in 1968, the area was declared as Bardia National Park in 1988 due to its diverse nature.Although the main objective of the National Park is to protect tigers and their prey, the endangered wildlife such as rhinos, crocodiles and dolphins are protected.
---
---