When were the devastating earthquakes occurred in Nepal?
---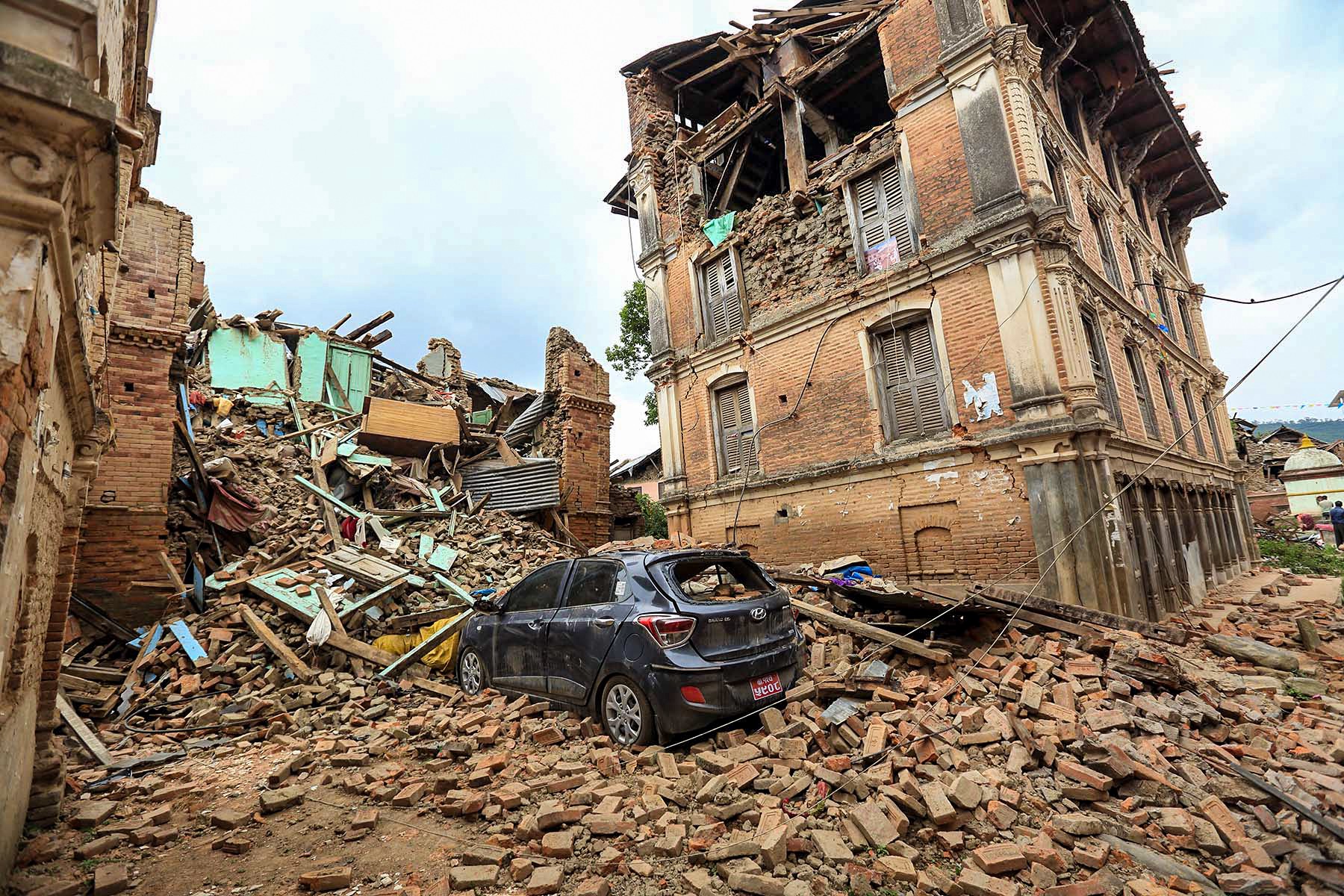 The first catastrophic earthquake in Nepal was on the third Monday of Bikram Samvat 1218 Asar Shukla. There is no scientific basis for the number of earthquakes that occurred due to the invention of the seismometer at that time.But based on an assessment of the damage, experts have been saying that a magnitude 7.7 earthquake struck at that time. King Abhay Malla died in the same earthquake. The quake affected one-third of the population in the Kathmandu Valley. The people of Kathmandu had left the city for 15 to a month.
Repeated tremors were felt for a month. Many houses, temples and archeological sites were destroyed.The second largest earthquake was in Bikram Samvat 1316. It is estimated that the earthquake also caused great damage. Although many people are estimated to have died, the exact number is not known. Due to which there was an epidemic in the country and there was famine.149 years after the second earthquake, the third earthquake occurred in Bikram Samvat 1465 with Kathmandu as the epicenter. The earthquake destroyed the temple of Rato Machhindranath from Jagai.At that time, many monasteries and houses in the Kathmandu Valley were destroyed.
There were large cracks in the ground in some places. The old water source dried up and the roots sprouted in the new place. The quake killed hundreds of people and animals and destroyed thousands of homes. Historians say that there was an earthquake in Bikram Samvat 1737 BS. Which caused great calamity. Dozens of people were killed. King Srinivasa Malla was injured in the quake that struck Kathmandu. Relatively low loss of wealth at that time.
On 1 July 1824, 21 earthquakes were felt in one day. How much money did it cost? No official record has been found. But 21 earthquakes in 24 hours are thought to have caused huge financial losses.
Bikram Samvat Another earthquake struck on June 26, 1867. The quake destroyed houses in Kathmandu, Lalitpur and Bhaktapur. No major human casualties were reported in Kathmandu and Lalitpur.
However, many temples were destroyed. Many people were killed in Bhaktapur.There was an earthquake on the day of Bikram Samvat 1880 Yamapanchak. The quake struck when seven planets in the same place split. According to sources, there were 17 earthquakes in one day. This disaster also caused a lot of damage. Although there is no exact data on the damage caused by the earthquake, the data on the subsequent earthquakes in Nepal is clear. A catastrophic earthquake had struck at around 6 pm on Monday, September 29, 1890 BS. At 11 pm on the same day, the second quake was felt again. Due to which, the kings were forced to spend the night in Bhandarkhal inside Hanuman Dhoka and in the open field of Tundikhel. Bhaktapur, Thimi, Sankhu and Banepa were badly affected by the quake. . One of the two towers in Kathmandu was completely demolished and the other half collapsed.In September 1890, another great earthquake struck. Less than a month later, another earthquake struck on the night of 10 September. Which destroyed the rest of the crumbling structure. One year after the previous year's earthquake did not heal the wounds inflicted by Bikram Samvat 1891, two major earthquakes occurred in June and September. The quake struck during the rainy season, causing severe flooding in the Bagmati.
January 2, 1990 is considered to be the most devastating earthquake in the history of Nepal's earthquakes. At that time, King Tribhuvan Bikram Shah was king in Kathmandu. An earthquake measuring 8.4 on the Richter scale centered at Chainpur in Sankhuwasabha district has badly affected the country.
The quake killed at least 8,519 people, including 3,850 men and 4,669 women. Around 4,500 people lost their lives in the Kathmandu Valley alone. 95,000 people were injured .Two hundred and seven thousand 40 structures including houses, schools, shrines and public buildings have been destroyed.
The Kathmandu Valley was almost devastated. Half of the tower collapsed at that time. The clock tower was also damaged. The quake cut off drinking water supply to 95 percent of the country. About 50 percent of the bridges collapsed. More than seven lakh people became homeless.
In 2037 BS, a 6.4 magnitude earthquake struck Bajhang district in the far west. The quake affected Baitadi, Bajura and Darchula districts in the far west, including Bajhang. About 2500 houses were destroyed at that time. 125 people lost their lives. 248 people were injured. 11,604 were destroyed.
A big earthquake had struck at 5:45 am on September 20, 2045 BS.
Murkuchi of Udaipur has been made the focal point. A magnitude 7.0 earthquake has killed at least 750 people. More than 6,500 houses collapsed. It badly damaged eastern Nepal and the Kathmandu Valley.
On 1 September 2068, Sikkim, India became the epicenter. There was a magnitude 9 earthquake. Five of them were killed. More than 27 people were injured.A magnitude 7.8 earthquake centered on the northern region of Gorkha district on April 29, 2072 BS. About 7,000 people have died so far. That number is estimated to exceed 10,000. Hundreds are injured. The quake left thousands homeless. The historic tower has collapsed due to the earthquake. Basantapur Durbar Square of archeological and historical importance has been damaged.
History of earthquakes in Nepal

Earthquake in 1255 undecided, 6 killed, millions displaced Many monasteries and temples have been reduced to rubble
A 7.7 magnitude earthquake had struck Kathmandu on Monday, Ashadh Shukla III in 1310 BS.
There was a famine in Nepal due to the loss of life and property due to the earthquake of 1316 BS .A large number of people have lost their lives due to the earthquake that struck in September, 2006.
The loss of life and property due to the night earthquake in 1737 BS.
Historical fact that on the 1st day of Ashadh 1824 BS, there were 21 earthquakes in 24 hours.
Experience of 21 earthquakes on the day of Jeshta Dussehra in 1866 BS.
On the day of Yama Panchami in 1880 BS, there were about 17 earthquakes.
An earthquake on Monday, September 29, 1890, damaged an estimated 4,214 houses in the Kathmandu Valley and 18,000 homes across the country. There were 23 earthquakes between Monday evening and night.The aftershocks are 40 to 50 times per day for a few days.
Many houses were damaged by the earthquake in 1891 BS.
1973 – A major earthquake in the far western region of Nepal.
An earthquake measuring 8.4 on the Richter scale struck Chainpur in the eastern region of Nepal at 2:24:22 pm on January 2, 1990, killing 8,519 people and destroying 2,7,740 structures, including houses, temples and pavilions. Turned into rubble.
At least 24 people have been killed and more than 1,300 houses have been completely damaged in an earthquake in the far western region on July 29, 2023 BS.
A 6.4 magnitude earthquake struck Bajhang district on August 3, 2037 BS, killing 103 people in 16 districts and damaging more than 250,000 houses.
Similarly, an earthquake measuring 6.6 on the Richter scale struck Udaipur in the eastern district of Nepal at 4:54 am on September 20, 2045 BS, killing 721 people and damaging more than 65,000 houses.
A 7.8 magnitude earthquake centered at Barpak in Gorkha district at 11:56 am on Saturday, April 29, 2072 BS and a 6.9 magnitude earthquake centered at Sindhupalchowk on Sunday, April 29, 2072 BS have killed more than 8,000 people so far. Thousands injured.
At least 150 people were killed and more than 2,000 were injured and thousands of houses were damaged in an earthquake that struck Dolakha and Sindhupalchowk districts on April 13, 2008.
Earthquake in the world
According to the USGS National Earthquake Information Center, the epicenter was reported at 9:11 a.m. on May 22, 1960, according to the USGS National Earthquake Information Center.
he quake in southern Chile alone caused 550 million in property damage, left 2 million people homeless, and killed at least 1,655 people and injured 3,000. The quake affected Hawali, Japan and the Philippines
Many people were killed and many property was damaged in the area.
---
---