Ganesh Himal : Angel Of Mountains
---

Ganesh Himal
Ganesh Himal
Ganesh Himal lies in the North Central of Nepal seperate it from Langtang by Trishuli Gandaki Valley in East  ,Budhi Gandaki &Shyar Khola in West   from Shringi Himal &Mansiri Himal .It lies in the North -West of Kathmandu which is 70km range from  Kathmandu .The mountain is named after the name of hindu God Ganesh whose face is  depicted   like elephant . It is located in the boarder of China and Nepal .
Ganesh Himal is suitable for cultural immersion along side natural bewilderment to feast the eyes where guest would be accommodated reception stay sharing the space with host family and having taste of the local meal prepared by relations of the house stay organically and delving the way of lifetime of the local inhabitants. Elevation of this mountain is  7429 m .Difficulty for expedition is Major Mountain Expedition.The Best months to climb: April, May, September, October .Its Convenient center lies in Kathmandu, Nepal.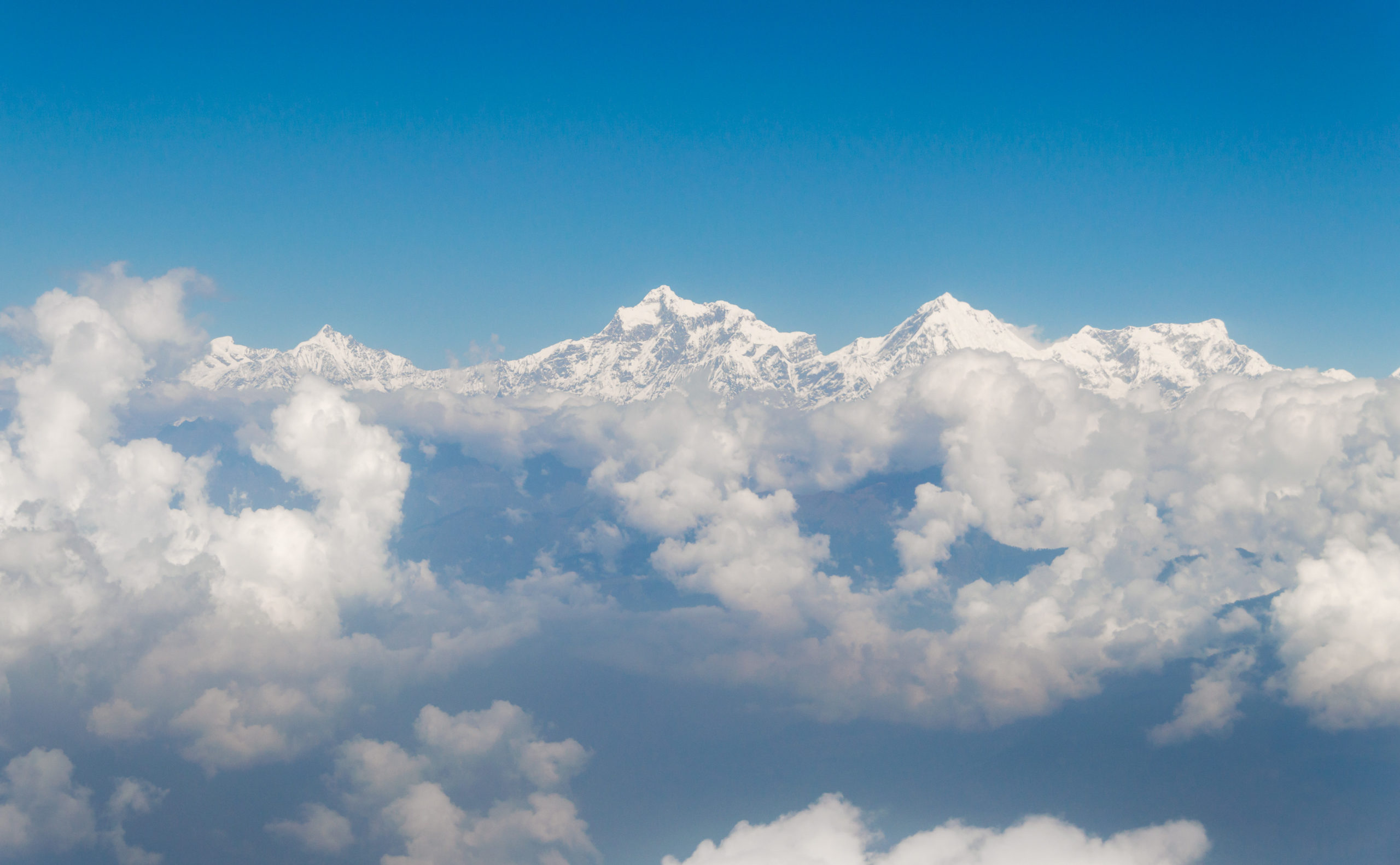 Ganesh Himal is an area of ​​great potential for Nepal. First of all, it is close to Kathmandu, on the other hand, it is known as a region of great potential from both natural and cultural point of view. Nearby are the Langtang area and the Tamang Heritage. On the other hand, this area is also considered very important from a religious point of view.
The most important thing is that it has the most minerals in the region, so it is very important,the Ganga Jamuna Lake and the four districts of Dhading, Nuwakot, Rasuwa and Gorkha could be developed, it could be taken as an alternative to Everest and Annapurna.
Ganesh Himal Expedition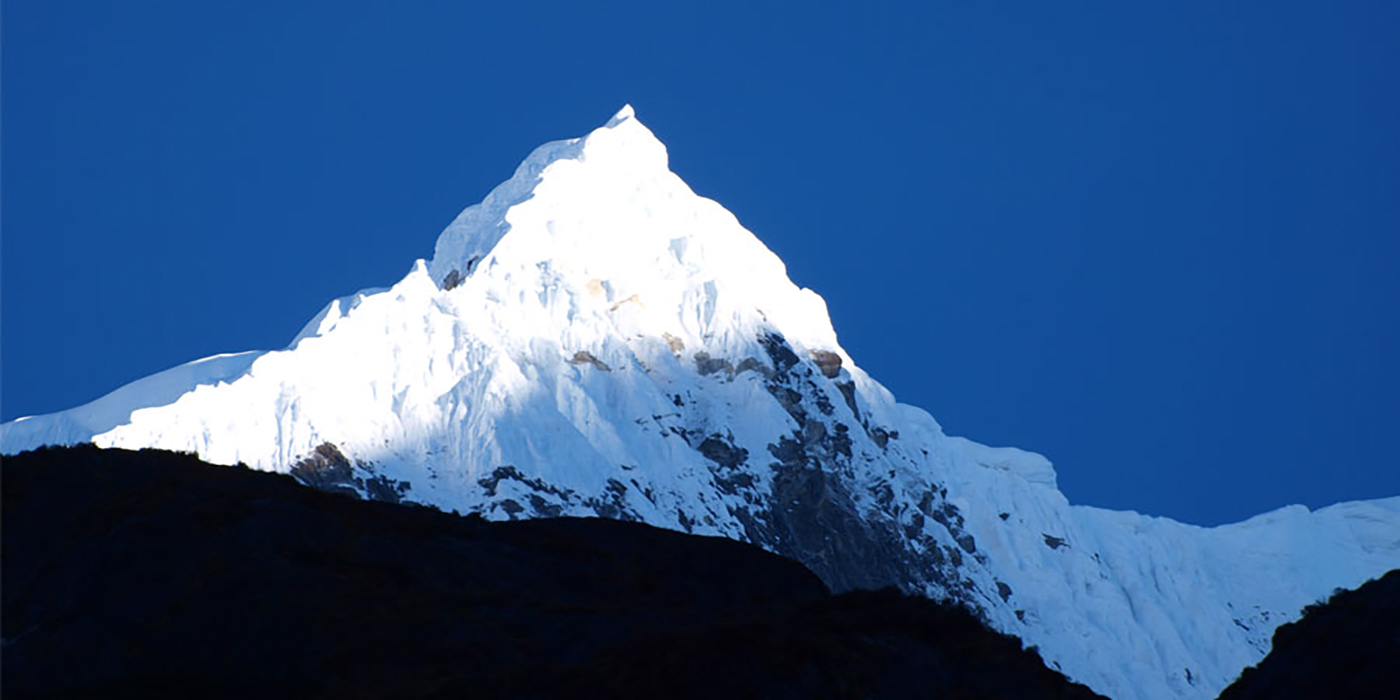 Ganesh himal expedition is Unique Path adventure , Expedition at 7, 422 meters / 24, 350 ft high summit, this mountaineering climb leads to one of the world's best trekking destination in the awesome Ganesh Himal area west of Langtang and east to worlds highest Mt. Manaslu range with fabulous scenery everyday during the trek and climb of Ganesh Himal also known as Yangra. The highest peak within the range is Ganesh I (Yangra) at, 7,422 m /24,350 ft high, there are three other peaks over 7000 meters and with 14 others over 6,000 meters within its massive range, the primary successful climb was by a Franco-Swiss Expedition team via the Southeast Ridge in 1955.
Unique Path adventure to Ganesh Himal Expedition results in awesome picturesque country within the heart of giant bulk of Ganesh Himal range of mountains within high country and thru Tamang Heritage Trail.
Gaensh Himal climb is technical includes ice and hiking in most of the places till to the summit top, offering grandeur view of surrounding peaks and shut view of the Tibetan plateau. This range lies on the  Tibetan border line.
The climb is high technically, should be conversant in the utilization of your equipment, crampons, harness, ice axe, tying knots and handling climbing ropes. Most of the Ganesh Himal Expedition are going to be involved walking roped together, including the glacial crossings. this is often adventure to Ganesh Himal for the experience mountaineers who have done previous climb within the Himalaya and in Alps mountains.
Starting this excellent adventure with a stimulating drive overland to Syabrubesi for Ganesh Himal Expeditions with quite six hours journey to Syabrubesi, door to Langtang valley, Ganesh Himal and to Tibet border, from Syabrubesi towards North West past traditional and cultural Tamang villages of farm lands to its  Base Camp.

Climb is far technical on snow and ice fields for a few time then heading towards the highest summit where our expert guides will maintain the route fixing ropes and snow bar where necessary in some technical sections on route to the highest . After a vigorous climb reaching the summit of Ganesh Himal with fabulous views of surrounding high mountains in the far west Annapurna, Manaslu and adjoin peaks of it with Langtang to North East Jugal Himal range and extending towards Dorji Lakpa to Mt. Gaurishanker, Melungatse, Phubagyache in the far eastern horizon and of Tibetan plateau towards North.
Leaving the last human settlement and villages for complete wilderness heading to higher region through enchanting rhododendron, pines and oaks forest towards wild country within the harmony of high mountains and nature leading at moraine and ice with rocks and boulders to determine its  Expedition base camp, high camp and beyond further two more camps before the summit bid of Ganesh Himal at 7, 422 meters high, at the bottom camp and high camp with proper rest and acclimatization for the large day and therefore the highlight of this adventure.
After an excellent time within the hidden areas of upper Ganesh Himal area heading back to Syabrubesi village within the comfort of cozy lodge after camping nights on climbing period then a repel to Kathmandu after a successful hard Ganesh Himal Expedition with grand service of Unique Path and its cheerful team of staff and guides.
Ganesh Himal Route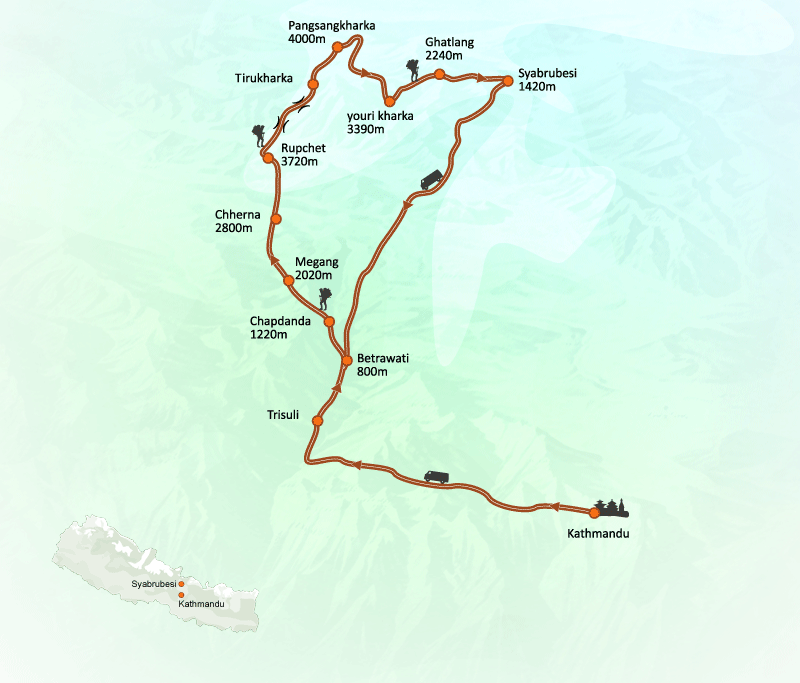 The Ganesh Himal region is very important from a natural and cultural point of view and can be developed as a suitable tourist trail,The area can be expanded to four routes that can be selected based on the time and choice of the tourist. 120 lbs. I There are different routes in this area from 1 week, 2 weeks to 18 days, 3 weeks to 25 days. Earlier, there were serious allegations of security threats in the area.
Why is not  tourism promoted here ?
Despite the abundant potential for tourist attractions, the lack of public awareness among the locals is considered to be the main reason for the lack of tourism management in  this region. Although the area has been in the news for a long time, many have complained that tourism has not been able to flourish due to lack of necessary support from the local people and political parties.
Places To Visit Near Ganesh Himal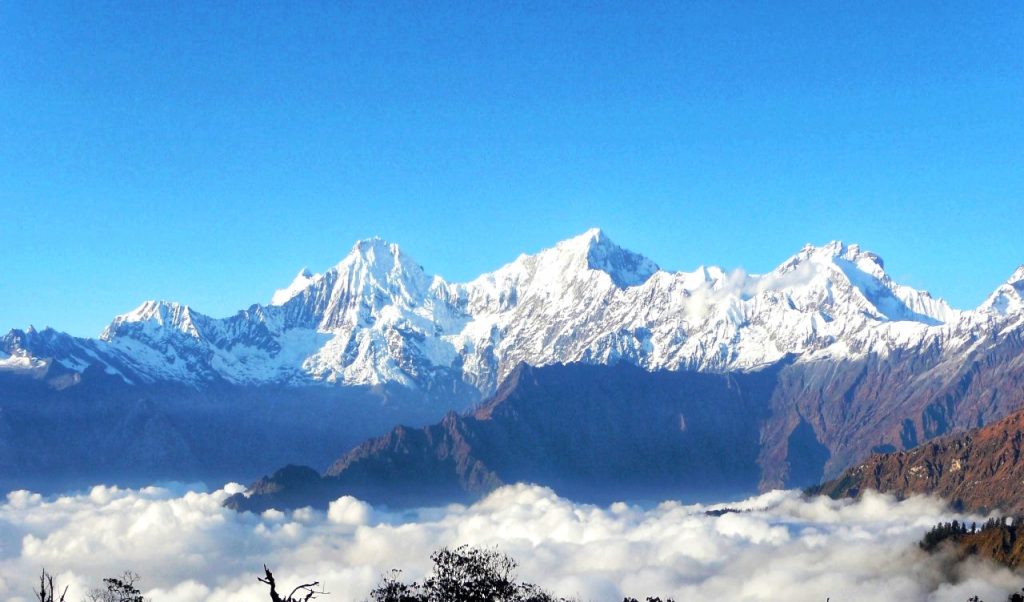 Pangsang Bhanjyang
Pangsang Bhanjyang, the last Tipling VDC in the northernmost part of Dhading's Ganesh Himal, which is close to the Chinese border, is a place of historical significance and scenic beauty.Although Pangsang Bhanjyang is located on the slopes of the upper hills or on the coast, it is located in the plains. Here, cedar, red grass, green grass, and many colorful flowers are blooming. Tourists coming to Ganesh Himal do not leave this Pangsang. Reserved markets of Rasuwa and Nuwakot Trishuli can be seen from this area.
Singla
Singla of Jharlang VDC has been considered as a religious place by the locals since time immemorial. Many years ago, when Tamang Gothal was staying in a place called Manchyat, a miraculous disciple in a night dream told him to worship the lake with devotion every year. From that time onwards, the pilgrimage takes place on the full moon of August every year.Jhankris have an important place in this procession. At that time, new jhankris are given wangur from which jhankris are believed to be very perfect, capable, and strong. Jhankris from different villages of Rasuwa and Nuwakot also play dhyangro and sing and dance in sweet rhythm.
This is especially true for young people. The disciples prepare and take with them a variety of desserts. Similarly, the new jhankri and the brothers involved in the procession are distributed. The brothers also pay according to their means. This Singladevi is a very beautiful and charming place. From this area you can see the skyscrapers Ganesh Himal, Lamtang Himal, Pyaldor Himal to the plains and Lekali fields and meadows. The unique flowers of this lake make the tourists happy.Many foreign tourists visit Singla every year to see the beautiful scenery. Tourists return to Kathmandu from Sertung village after a 6-hour panoramic view.
FAQ'S
Where do Ganesh Himal lies ?
list of  Climbing history of  Ganesh himal?
How far is Ganesh Himal from Kathmandu ?
Is Ganesh Himal is in Nepal or China ?
---
---