TOP 10 PLACE TO VISIT IN NEPAL DURING WINTER
---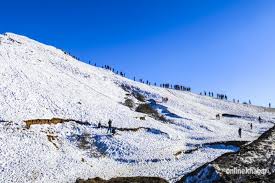 1.Poon hill: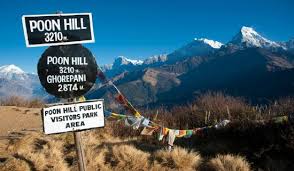 Poonhill is also called ghorepani poon hill trek which is a hill station to see Annapurna Massif range and Dhaulagiri which lies in border of Myagdi and Kaski District.It let us fell the Himalayan Panaroma.It is one of the easiest trekking route in Nepal.we can enjoy sunrise and sunset from the poonhill.The weather in poonhill is unpredictable so we must be well prepared for it.we can enjoy the cultural village community of Gurung and Magar .FamousvmountainlikeAnnapurna,Machhapuchre lies here which has enhanced the beauiness of Poon Hill.
2.Pulchoki:
Pulchoki lies inside theKathmandu valley It lies upside of the Godawari (Botanical Garden) which is 14km and 45 minutes along the rugged motorable road .It is the highest hill around Kathmandu valley.People basically visit there during the winter season to enjoy the snowfall.Due to high altitude strong wind blew ,bhuddist prayer flags can be seen flapping with the cold breeze.There is no hotel and homestay in Pulchoki only few streeth shop is available sometime.It is a bit difficult to take the vehicle above the Pulchoki due to the rugged pebble road.Most of the time this place is covered by the fog,so it is the cold place.
3.Nagarkot: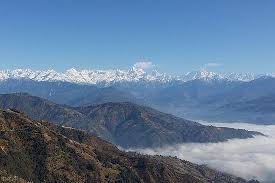 Nagarkot is located in the east of Kathmandu in Bhaktapur District.It lies in the hig altitude.We can enjoy the Himalayan view of eight possible range (Annapurna,Manaslu,GaneshHimal,Langtang,Jugal,Rolwaling, Everest and Numbur).Different kind of hotel and resort are available here.Sunrise view is magnificent sight to behold. Hiking place in and around Nagarkot is Nagarkot View Tower and Nagarkot Panaromic Hiking Hill trail.We can even go for the Nagarkot to Changunarayan Hike and Nagarkot to Dhulikhel Hike.The best viewing seasons are October to Decemberand March to April .
4.Kalinchowk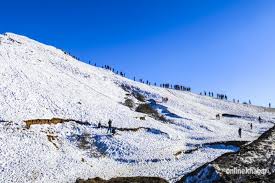 Kalinchok lies in the village development committee VDC of Dolakha District in Janakpur Zone.It is a best destination for the short trek in Nepal which can be done within 3 days.We can observe both the Hinduism as well as Bhuddhism culture here .Kalinchowk Bhagwati is the well known pilgrimage site available here.The weather is perfect in any season and during the season of winter we can enjoy snowfall as well.we can enjoy the splindid view of different himalays likeLangtang Himal,Ganesh Himal,Shisha Pangma,Dorje lakpa,Jugal Himal,Gauri Shankhar,etc. we can even enjoy the view of Kathmandu valley
5.Annapurna Base Camp(ABC)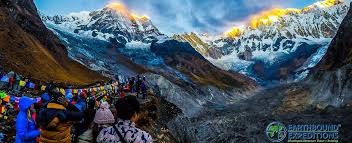 Mt.Annapurna is the 10th highest mountain in the world and one of the popular walks on the earth.It is one of the easy and quite short trek than other high altitude trek in Nepal.We even passes through Machhapuchhre Base Camp (MBC).Visit of two base camp in a single trip.Spring is the best season to do the annapurna base camp trek.The lodge in the ABC is well equipped, you can get food fromtypical Nepali food Dal vat to Pizza, chau –chau. Annapurna Base Camp is situable to visit in any season however in winter the base camp can sometimes be closed due to over snowfall
6.Tilicho lake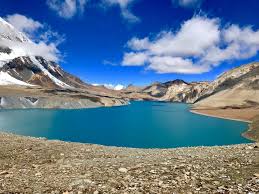 Tilicho lake is situated in Manang District of Nepal.It is one of the trendy trips in Annapurna Region and one of the adventurous hike towards the highest lake in the world.Tilicho is situated at the high altitude of Nepal and kown as lake situated at the highest altitude in the world.Tilicho lake trek start right from Beshisahar to the Annapurna Circuit route which goes through Marsyangdi River valley with great view of Manaslu and himal chuli to east. Mostly people from Thakali community reside here.Altitude make the place a little challenging but the views from the Tilicho is mesmerizing and phenomenal.
7.Rara lake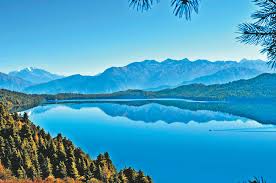 Rara District lies in Mugu and Jumla District of Nepal. The lake is situated in Rara Ntional Park and deepest lake of Nepal.It is a peaceful place ,people visit there to relax and reflect. It is dreamy little place of heaven which is surrounded by hills on all sides . We can ride boat in a lake and horse ride as well .We can reach Rara lake within one hour from the Tahachal airport.Rara lake has been favourite destination for the internal as well as external tourist.Rara lake is oval shape which change its color to time
8.Dolpo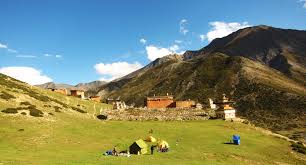 Dolpo lies in the northwestern region in boarder of china. Dolpo is one of the dense populated area and one of the most isolated trekking experience in the country. Dolpo is divided into two part that is Upper Dolpo and Lower Dolpo..We can observe Buddhism culture in Dolpo .Th epart of this region lies in Shey Phkosundo National Park . It is historically divided into four valley Tshar ,Tarap, Panzang ang Nangkhong.
9. Bandipur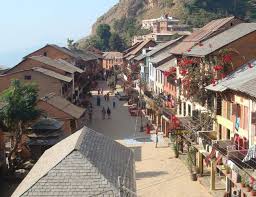 Bandipur is the place where we can observe the newar community and their culture . It combines village traditional architecture ,Himalayas view . Bandipur is one of the amazing mixture of nature and culture .Bandipur was anciently inhabited by the Magar community but later the newar community from Bhaktapur reside there . In Bandipur we can visit Khagda devi temple, siddha cave,Padhma Library, Bindabasini temple, Thanimai temple, Tundikhel, Mahalaxmi temple . we can even enjoy the local food in Bandipur
10.Illam
Illam lies in the hily reason of Nepal which is famous for the tea garden and tea production.It is also famous for Akabare Khursani (chilly) ,potato, Adhuwa ( Ginger).The places to visit in Illam is Shree Antu Dandha ,Mai Pokhari,Pathivara Temple ,Sandakpur, Kanyam and Fikkal ,Gajurmukhi ,Mai beni ,Tea production in Illam .There are so many homestay and lodge available at Illam .We can even have fun from the Illam Tea Garden Trek.Illam is also known as the richest district of Nepal .It is the best place for the student who are looking for the research on the endanger species.
---
---