Bhushan Dahal :Thirty Years Of Bhushan Dahal On Television
---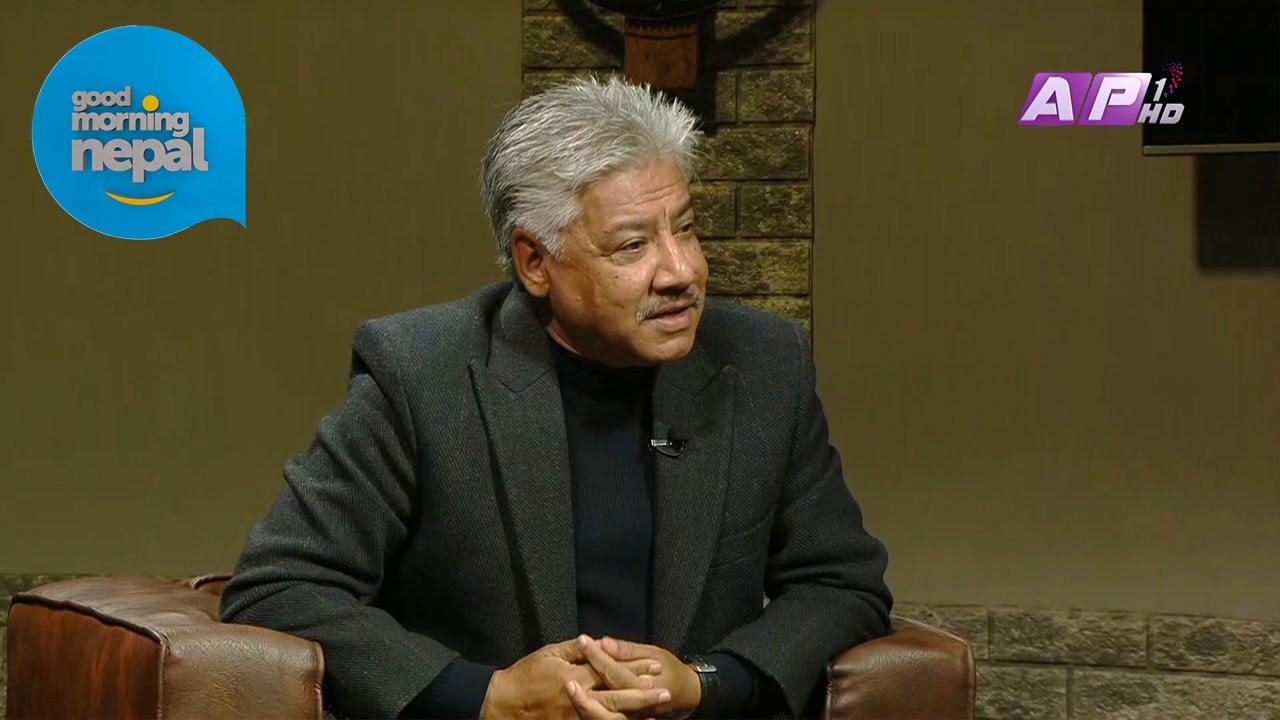 Bhushan Dahal : I was born in 2023 in Kathmandu. I am the only son of my parents. I completed my schooling from St. Xavier's School in Kantishwari, Budhanilkantha. After passing SLC in first class, my parents forced me to study science. Another belief that is still there is that after passing the SLC First Division, one should study science. According to the same belief, I was admitted to Amrit Science College. The education there was not very good. So I could not read science well. I decided to leave science and study humanities and enrolled in Trichandra College. There I passed BA in Economics, Politics and English.
Bhushan Dahal did my MA in Sociology. When and how did you get into television? I did not come to work in television and make a future out of it. It was around 1988, I was 20-21 years old, I was studying BA. A friend asked me to work in the morning broadcast on Nepal Television. I was empty. I started working in Nepal Television from the day after that friend proposed. The first day's work was to wrap the wires there. I still don't consider any work small or big. Bhushan Dahal fulfill my responsibilities honestly. That's what I did then. I have entered television from absolutely zero level. Later I worked as a program producer. I used to make simple programs. What was the salary? 20 rupees a day. I didn't say give 600 rupees a month, but the giver said that 20 rupees a day is the final.
Going every day, working, going home to get 20 rupees. If I didn't go to get the work done today, the money is gone. I would not have thought that I would work the next day and take 40 rupees. What did you do for 20 rupees on the first day? Don't remember Maybe smoke. How much did you work I used to work hard. Singha Durbar used to come on foot from Kupandol. Bhushan Dahal worked 15 to 18 hours. I never thought I would make a living working on television. However, I did not want to limit my work to a job. So I was more focused on work. Arubela used to make various comments about television.
Now he himself has entered television. After plowing, I felt that there was no more charity. I had a lot of desire to learn. But, teaching was less. At that time, my editor friend Rabindra Pandey encouraged me a lot. Did you dream of making a future in television? In fact, I had no dreams. I had no plan to become this or that. I had the energy. I had the courage to stay where Bhushan Dahal was. Again, I didn't have to plan. When did the thought of freezing on TV come from? You see, I jumped into the sea without knowing how to swim. I had no choice but to learn to swim. Thousands of hours were spent working on it, just meeting people. Now I am enjoying the work I am doing. The sea is for people who don't know any area. You must know how to swim before jumping into it.
There is no alternative but to learn after jumping without knowing how to swim. After learning, the sea voyage begins to be fun. Since when do you think, now I am known among the audience? I also pulled features. Although I did many other things, the Sunday Pop program introduced me. Due to the novelty of the program, the program became popular. Then I ran the program 'Reflection'. It also became popular to some extent. Then I also made a lot of documentaries. Anything that failed in life?  Bhushan Dahal worked for Nepal Television for nine and a half years. Then the image channel opened and Bhushan Dahal started working on it. After Image Channel, I set up a software company called Divyadrishti International. But, perhaps because of the time, it was either Fapen or my decision was wrong.
It was then that Bhushan Dahal learned the lesson that I should do the work that suits me. But, at the same time, I envisioned and produced the guideline program. I made a commitment, I only do 12 episodes. Then I left. It is to be remembered that I have convinced the so-called journalist Vijay Kumar Pandey to give that program. Then I joined Kantipur. A couple of friends suggested to me, 'You are also mature, do political talk.' In 2003, I started Fireside. It's been 15 years since the fireside program began. Bhushan Dahal don't know how many viewers like it, how many don't. But, I am ready to present the dose demanded by the eyes and ears of the general audience. What was the reaction after starting the fireside? I didn't even have a background working in the news.
Maybe that's why when I started Fireside, some of my senior journalist friends called me a 'gimmick'. As soon as the program started, he would say, "He came to the gimmick." Such a comment made me angry. I still started working hard. I thought that Bhushan Dahal would not leave without seeing it. Now those friends are silent. Maybe I showed that! However, this assessment is to be made by the audience, not me. How many interviews have you done so far? It's been 15 years since I started running Fireside. During this period, I interviewed more than 400 stakeholders in various fields. Any unforgettable interviews? I will never forget an interview. We had reached Dolpa to make a behind-the-scenes video called 'Sa Karnali …'. We also invited Thinley from Dolpa to play in the caravan.
We are in a tired posture We were leaning against the rock. At that moment, the tone changed and I said to my friends, 'Hey boy, Thinley will give an interview or come and ask!' Thinley came to give an interview if he asked everything. Maja sat on the rock and gave an interview. Bhushan Dahal have never had such an honest interview in my career. He was a man from a remote place. He was very pure by nature. He did not worry about what he felt. He would just say no. Have you thought about retirement? I am the only earner in my family. My children are no longer able to earn a living. So I work as long as I can. Again, age does not seem to stop working. American television personality Larry King is still interviewing. David Frost from the UK gave an interview to the end of his life.
I'm not tired either. How do you see the current state of Nepali television? There are more televisions in Nepal now. Too much, too little. It is unfortunate that the general international norms of television operation have not yet been implemented in some televisions. There is no match between demand and supply in a single sentence. Therefore, televisions are not able to become commercial. At present, televisions have not been able to move forward commercially except for a handful. What can be done to improve it? We have to change our thinking. We have to get rid of the thinking that what is going on is free and we have to develop the thinking that we should do what is good. Be socially responsible. You should be able to give programs and news according to the wishes of the audience. Bhushan Dahal
Employees should be made happy. What about the condition of television workers? There are also good television workers in Nepal. But, I also see some of them, which are not accepted by technology, the viewers are not interested and also come on the screen. This is also hampering the professionalism of television and television workers. What qualities should a skilled television worker have? When it comes to the screen, the first thing you have to accept is technology. Then comes study and knowledge. There is a belief that you have to look good on the television screen, what do you say? I would say that the first condition is that the camera accepts and passes the audio. There may be those who are good looking, there may be those who are less. Bhushan Dahal
What do you want to say to those who are looking for their future in the field of television? It should be like a tiger, in a herd of deer, the tiger hunts whatever it sees. In the same way, we have to struggle until we succeed in the field in which we jump in life. We have to recognize our potential and move forward accordingly. I am surprised to hear that today's youth have not been able to get involved in any field. We have not been frozen in the same area for years, the youth still have to break many mountains, huge rivers have to cross. Where is the progress in life now by being frustrated? If you have the ability to sing, you should not run to see a person who has reached great heights to become a big businessman. If you concentrate on singing, you can be known as a great singer. Bhushan Dahal
If a big businessman who has reached that height thinks that he will leave his business and sing, his business will be quadrupled. The same is true on television. This is a very sad deed. After jumping into it, one should be ready to face many challenges. You can't even leave in the middle. But, after getting success, it is rarely as much fun as others. So only jump in this area if you travel long distances. Let's talk in a slightly different context. After the formation of the Left government, you have interviewed various leaders of the ruling party. They talk about economic prosperity in every speech. Do you believe that the country will prosper in five years or not? I do not think so. Prosperity requires preparation, schedule, is that preparation? If a country could be built by giving speeches, it would be prosperous in a minute or an hour, not five years. Bhushan Dahal
Do you want to say something to the youth who are going abroad without seeing any opportunity in Nepal? Absolutely no one wants to go abroad. He is going abroad after facing financial problems. However, this is a temporary solution. If you want to go abroad and work for others in Nepal, then money is here. The tea shop owner should be determined to make it a big restaurant and work. Farmers should look for possibilities in that and continue the work. The government does not do everything. We must take the lead ourselves. It is time to think about the future of our children if we leave the country because those in government are dishonest. Bhushan Dahal
Gehendra Shumsher : History About First Scientist Of Nepal
FAQ'S
Who is Bhusan Dahal ?
---
---