Home Stay In Nepal : Better Experience Than A Expensive Hotel??
---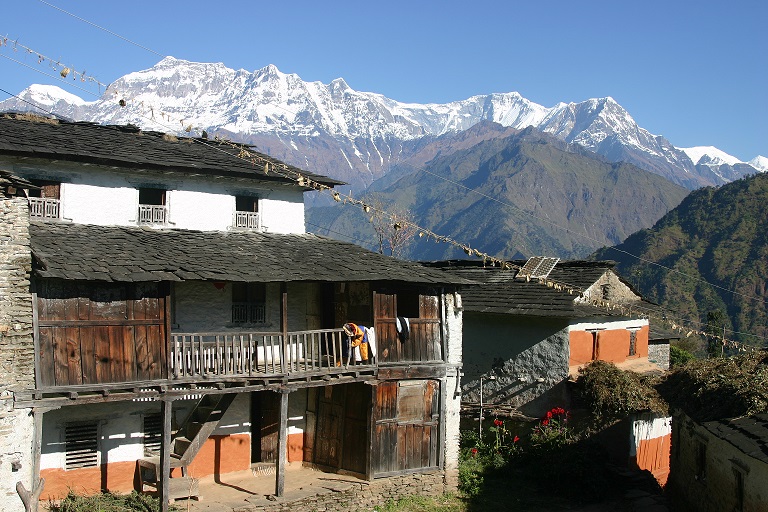 Homestay In Nepal
Home stay in Nepal is the new attraction for internal and international tourists.  Home Stay is practically staying in the Home of residence. Having a unique and extraordinary experience and getting in touch with the local residence will provide you with the experience of life time. Home stay in Nepal is getting popular these days.There are hundreds of villages in the country with home stay facilities. Home stay has a fragrance of rural lifestyle in a family environment. Home stay tourist attraction is increasing due to intimacy, sweet food and cheap price. There is usually a one night package of eight hundred to fifteen hundred rupees. The package includes breakfast, lunch, dinner and bed facilities. Today we will talk about the Home stay in Nepal :
1. Sirubari : Home Stay In Nepal
The model destination for rural tourism is Sirubari (1,610 m). Gurung has 39 houses in the village located in Syangja of Andhikhola Municipality-1. Sirubari for Gurung lifestyle, culture and intimacy. The village has a monastery, Gurung Museum, forest, birthplace of Captain Rudraman Gurung and other heritages. Dhaulagiri, Annapurna, Machhapuchhre and Lamjung mountains can be seen from Gorujure hill of village Mastir.
For the first time in Nepal, Home Stay was launched in 2054 BS in Sirubari under the vision and leadership of Captain Rudraman. At present, guests are kept in 17 houses of the village.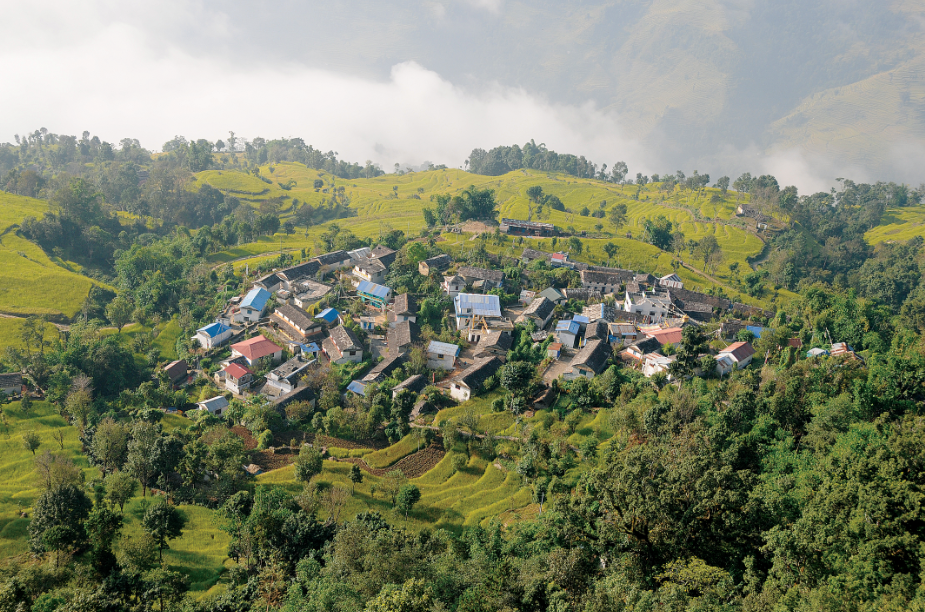 How to reach:
Kathmandu-Pokhara 200 km, 6 hours by bus.
Kathmandu-Pokhara flight 25 minutes.
Pokhara-Karkineta-Sirubari 64 km.
From Prithvi Chowk in Pokhara, the bus to Sirubari leaves.
Contact: Jum Gurung-9846159388
2. Ghalegaun : Home Stay In Nepal
Ghalegaon is shining in the light of the mountains. From the village, Annapurna, Machhapuchche, Lamjung and Manaslu mountains can be seen. There are 125 houses in Ghalegaun in Khonlasothar Gaonpalika-3 of Lamjung. 80 houses of Gurungs and 45 houses of Dalits. The village has Uttarkanya temple, tea plantation, view tower, khoibo, Gurung museum etc. There are home stay facilities in 32 houses. Two houses belong to Dalits and the remaining 30 houses belong to Gurungs. There are also hotels and restaurants in the village. In the evening, cultural programs are shown according to the demand of the guests.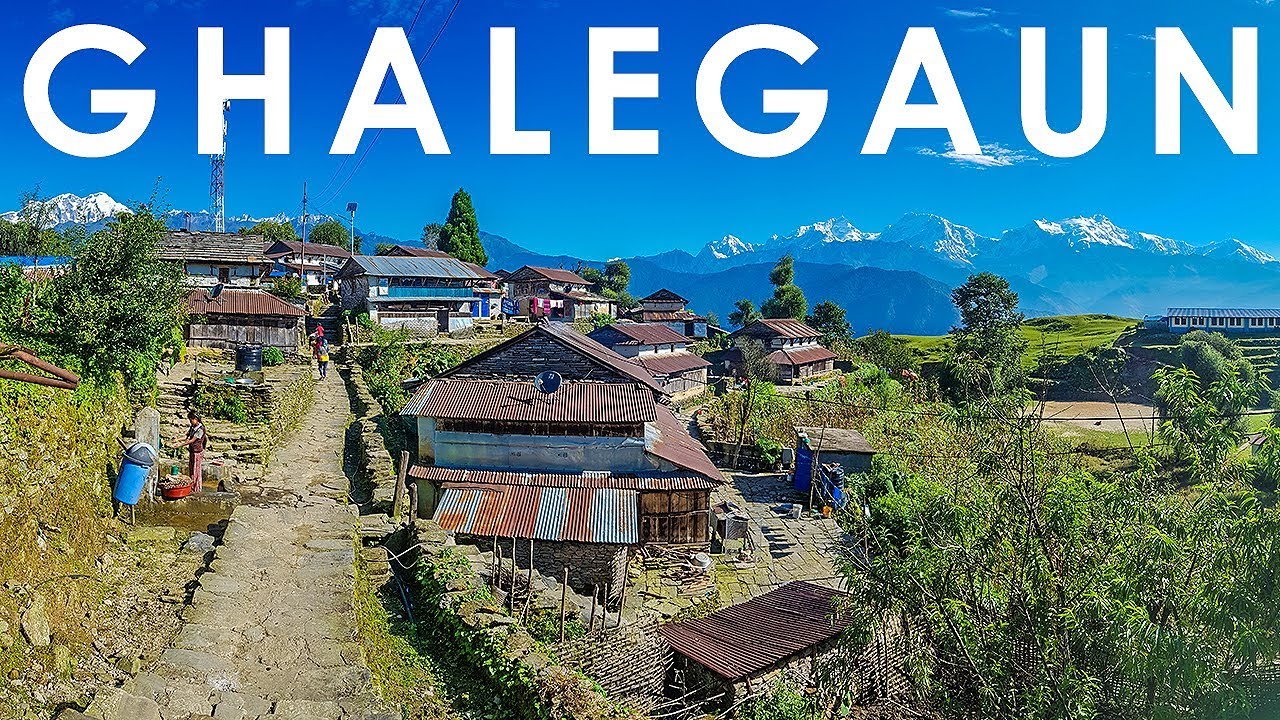 How to reach:
Kathmandu-Beshishahar -172 km, 5 hours by bus.
Besisahar-Ghalegaon 24 km by jeep.
6 hours walk from Beshishahar.
Contact: Prem Ghale-9856045012
3. Tangting: Home Stay In Nepal
Tangting (1,665 m) is a Gurung settlement in Madi Gaonpalika-2, Kaski. On the other side of Tangting village, Annapurna and Lamjung snow ranges can be seen at the head of Sikles. There are 200 houses in Tangting village. Tangting has beautiful hills, Bon Gumba, Koiva Dhin and Buddhist Gumba. There are 5 hotels in the village and 14 houses have home stay facility. Ghatu, Zhaure, Sorathi and Theater dances are performed in the cultural program. Honey, bhangra, gedagudi and vegetables are brought from the village.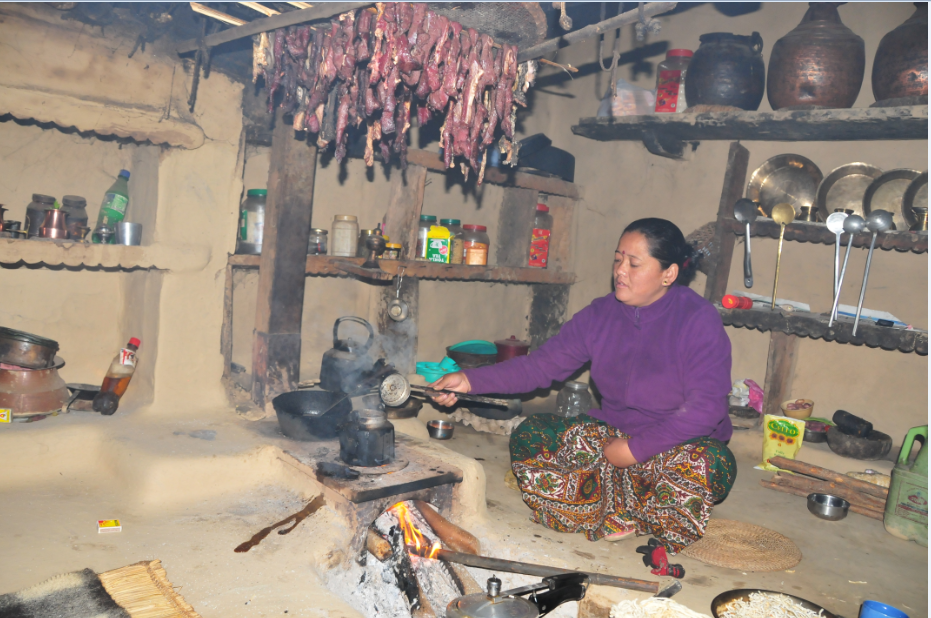 How to reach:
Kathmandu-Pokhara 200 km, 6 hours by bus.
Or Kathmandu-Pokhara 25 minute flight.
Pokhara-Tangting 21 km.
Buses leave Kahunkhola of Pokhara at 8 am and 4 pm.
Contact: Prakash Gurung-9856028827
4. Bhada: Home Stay In Nepal
There are 200 houses of Tharu community in Bhada village of Dhangadhi sub-metropolis-16 of Kailali. Famous for its Tharu lifestyle, the village has a number of properties including Ganesh Community Forest, Joginya Lake, Behdaba Temple, Rameshwar Temple and Sahadeva Lake. Home stay has been started in the village since December 2067 BS and now 19 houses are accommodated. Guests are taken around the village on ox carts or bicycles. The villagers perform Sakhiya, Jhumra, Maghauta, Lathauhawa, Baithakki, Mungrahuwa and Guruva dances. And Tharu feeds the dishes.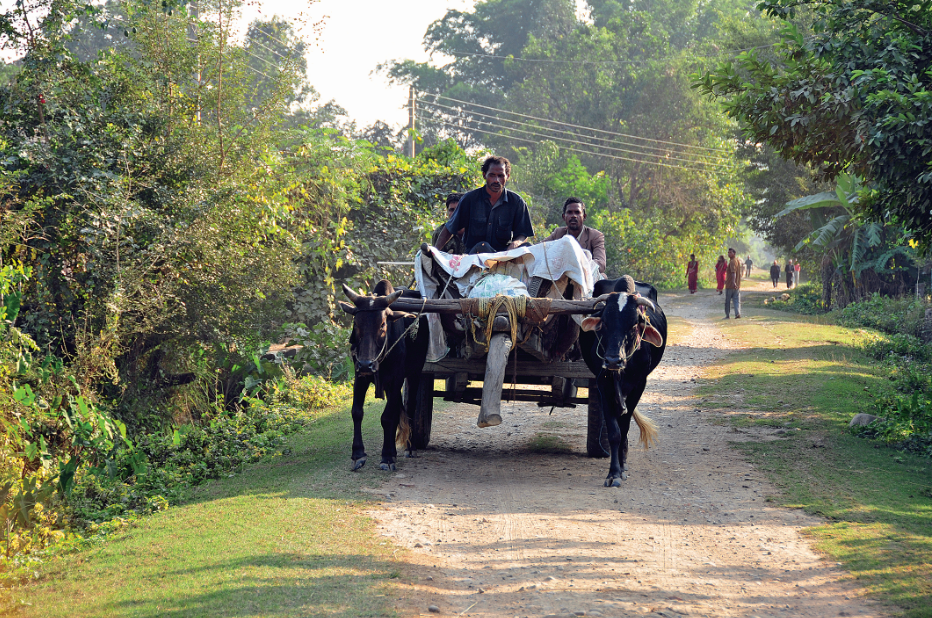 How to reach:
Kathmandu-Dhangadhi 680 km.
Or Kathmandu-Dhangadhi 1 hour 10 minutes flight.
Bhada is 17 kilometers from Dhangadhi via Bailey.
7 km from Rajipur and 12 km from Jhil Chauraha of Chaumala section of East-West Highway.
Contact: Laxminarayan Chaudhary-9749028004
5. Amaltari
Amaltari is a wildlife destination. There are Tharu, Bote and Musahar castes in Amaltari of Kawasoti Municipality-15 in the intermediate zone of Chitwan National Park. Cultural programs can be done in the village, elephant safari in the community forest, boating in Narayani, visiting the Tharu Museum, fishing in the pond, bird watching in the forest. There are some resorts in the village. Home stay has been started there from 5th June, 2070 BS. At present, guests are accommodated in 31 houses including 22 in Tharu and 9 in Bote. In the evening, dance of Chaudhary and Bote community is shown in the community building.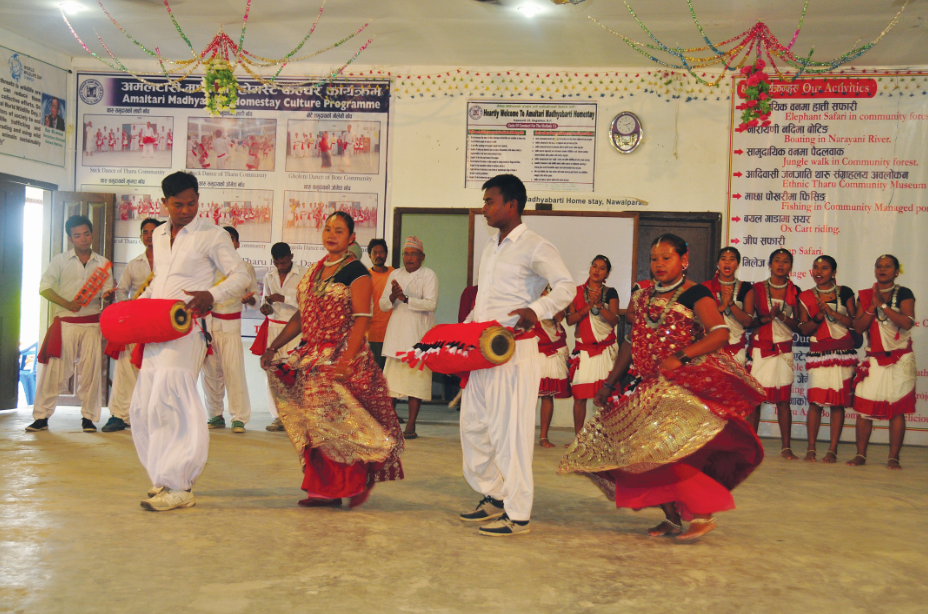 How to reach:
Kathmandu-Amaltari 185 km.
From Kathmandu to Lumbini by bus to Kawasoti Parti to Danda Bazaar.
Amaltari at 6 km from Danda Bazaar.
Contact – Dhaniram Buraun – 9802637811
6. Thini: Home Stay In Nepal
Thini village is on the south side of Jomsom Bazaar. There are 100 houses of Thakali in Thini (2,862 m) in Mustang of Gharapjhong Municipality-5. The village has Nilgiri Himal, Snow Leopard Cave, Dhumba Lake, Won Gumba, Kuchhab Teranga Gumba, Gharapzhong Fort, Apple Orchard, Yaruzhu View Point, Thakali Museum etc. The country's first Thakali Community Home Stay has been opened in Thini since April 2074 BS. There are some hotels in the village and 12 houses have home stay facility.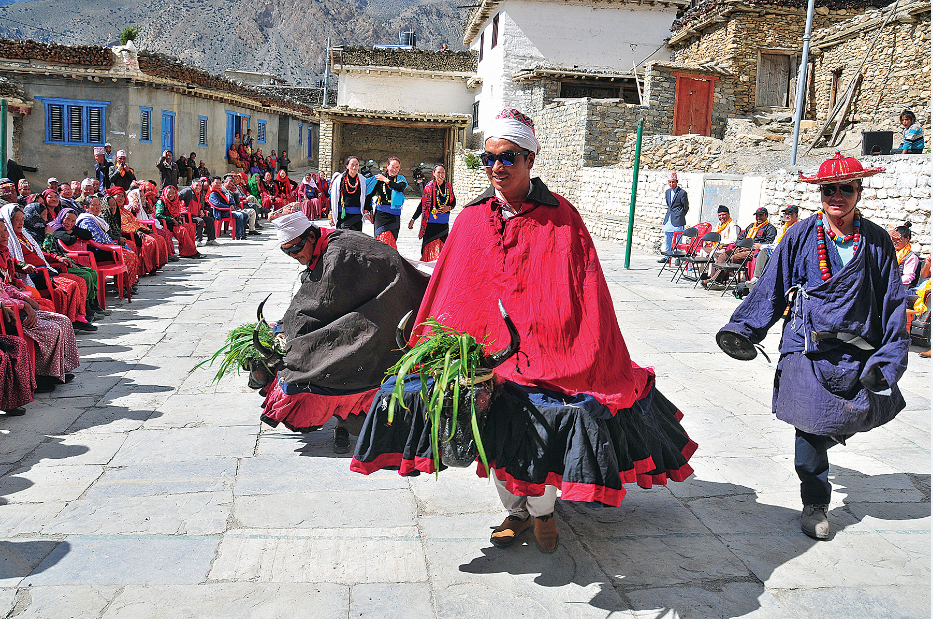 How to reach:
Kathmandu-Beni 282 km, 9 hours by bus.
Beni-Jomsom 75 km, 6 hours by bus.
Or Pokhara-Jomsom air travel 18 minutes.
Jomsom-Thini 2 km.
There is a motor road to Thini.
Contact: Juma Thakali-9857650600
7. Shuklaphanta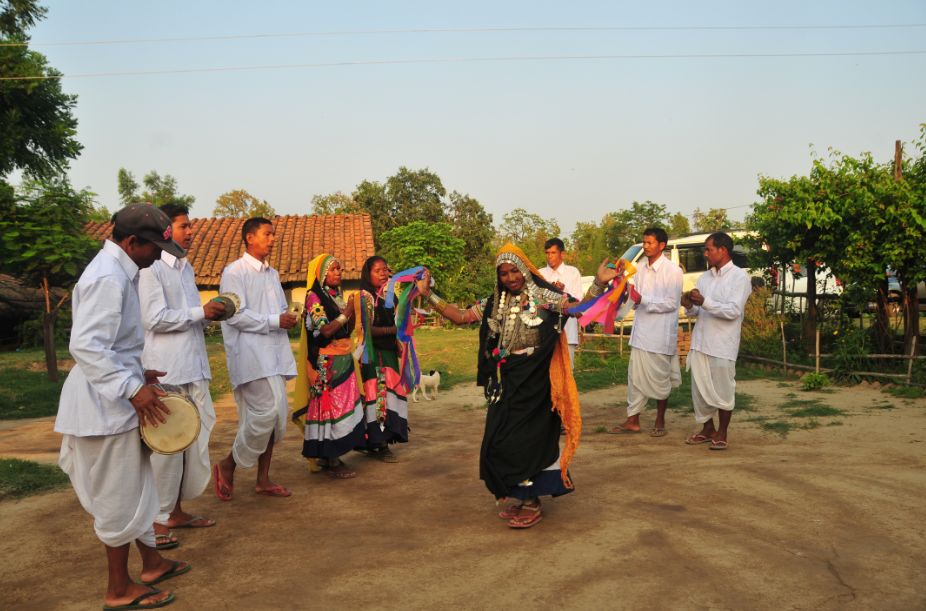 Shuklaphanta National Park is famous for its rhinos with 2500 rhinos. In addition, the park is home to many other animals and hundreds of birds. The park is surrounded by Siddhababa Temple, Mahakali Bridge, Betkot and Jhilmila Lake, Tanakpur Dam and other properties. There are some hotels near Shuklaphanta. There is a settlement of Rana Tharu community near the entrance of the park. There is home stay facility in 8 houses. There you can observe the taste and culture of Tharu cuisine.
How to reach:
Kathmandu-Mahendranagar 700 km, 12 hours by bus.
Or Kathmandu-Dhangadhi 1 hour 10 minutes flight.
1 hour by Dhangadhi-Mahendranagar bus.
Mahendranagar – Home stay 7 km.
Contact: Chetram Rana-9848705447
8. Namche : Home Stay In Nepal
The American news agency CNN had included Namche in the list of 12 must-visit villages in the world in 068 BS. Dhankuta's name has been in the news ever since. Magar culture and the spirit house built there are the main attractions. The mass grave created by an American architect by collecting stones found in 213 graves where ancestral bodies are buried is called the house of the soul. The hill station is near Bhedetar. A dozen houses in the village have home stay facility. Organic dishes are found there.Besides, in the evenings they dance hurra.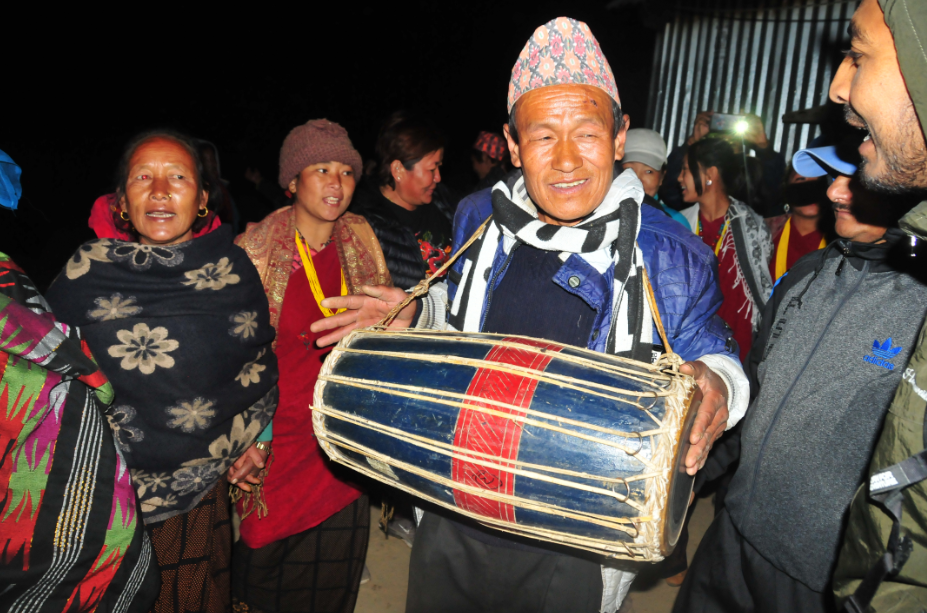 How to reach:
Kathmandu-Dharan 550 km, 12 hours by bus
Dharan-Namje 21 km.
You have to take a bus from Dharan to Dhankuta or Rajarani to go to Bhedetar.
Contact: Anil Kumar Rana-9842563199
9. Dalla
Bardia National Park to see tigers. Bardiya has earned worldwide fame for tigers, rhinos and crocodiles. The park area includes jungle safaris, crocodile breeding center visits, Tharu Museum observation and Thakurbaba Temple visit. There are home stay facilities in two dozen houses of Tharu and Kumal in Dalla village in Madhuwan Municipality-1 in the middle of the park. Home stay is a confluence of Tharu cuisine and culture. The villagers show cultural programs in the evening at the community building.Jhumra, lathi, majira and chokra dance are performed in it.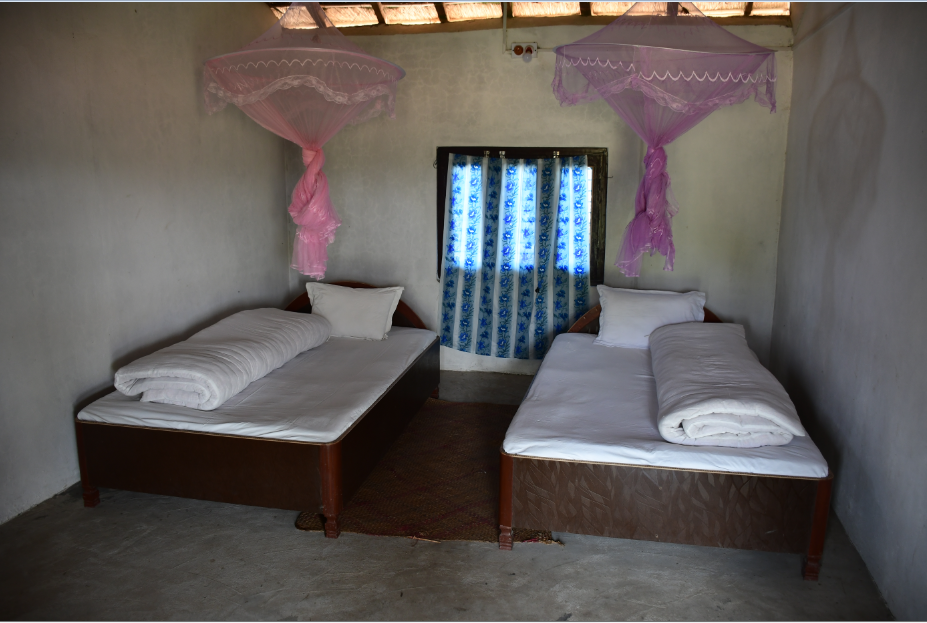 How to reach:
14 hours by bus from Kathmandu to Thakur.
By Thakur, 13 km from Ambasa on the East-West Highway.
Thakurdwara-Dalla 5 km. 90 kilometers by Nepalgunj-Thakur.
Contact – Parashuram Chaudhary – 9844823308
10. Chitlang: Home Stay In Nepal
Chandragiri Bhanjyang (2,280 m) is the old gateway to the Kathmandu Valley in the Chitlang Valley, which stretches from north to south. The village is inhabited by Newars, Tamangs, Kshatriyas, Brahmins and Balamis. There are properties including Ashok Chaitya, Taleju Bhavani Kot, Satdhara, Trigjureshwar Shivalaya, Goat Farm, Swachhand Bhairav.Hotels and resorts are opening in Chitlang. Home stay was started in 6 houses in the village from Nepal Tourism Year 2011. Currently, private home stays are also open.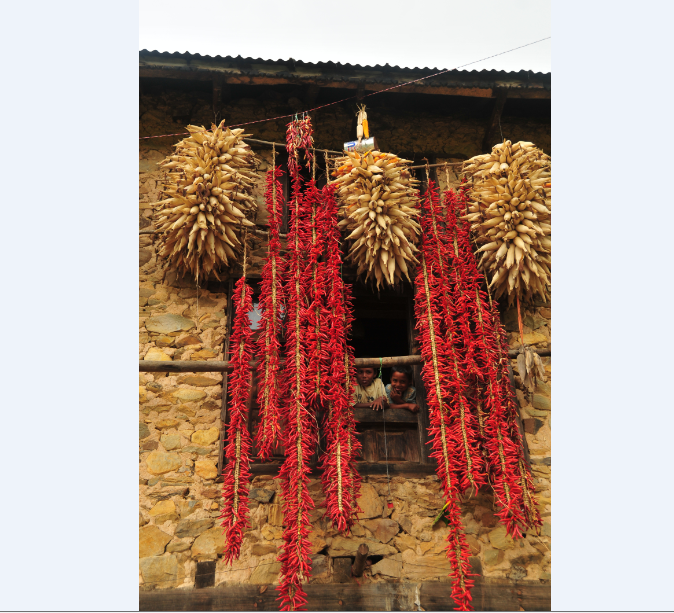 How to get there:
After reaching Takura by jeep or Chandragiri cable car from the warehouse behind Thankot Park in Kathmandu, you have to go downhill.
Warehouse-Chitlang 13 km.
Contact: Radhakrishna Basnet-9804391882
11. Tute Pani
Tutepani (1,275 m) in Tanahu, Bhanu Municipality-13 is considered to be the Trivenidham of nature, culture and intimacy. Mirlungkot (1,645 m) is at the head of Gurung settlement. From the village, Annapurna, Himachuli, Machhapuchhe to Lamjung Himal can be seen.
The village has a perfect cave, large stone, Sunsari view point etc. Pulimarang village can be reached in 40 minutes on foot from Tutepani. There is a martyr's memorial where there are statues of warriors who have been martyred in different periods since 2007.
Out of 30 Gurung houses in the village, 16 houses have home stay facility. The welcome and farewell of the home stay is emotional. Sweet food is served there.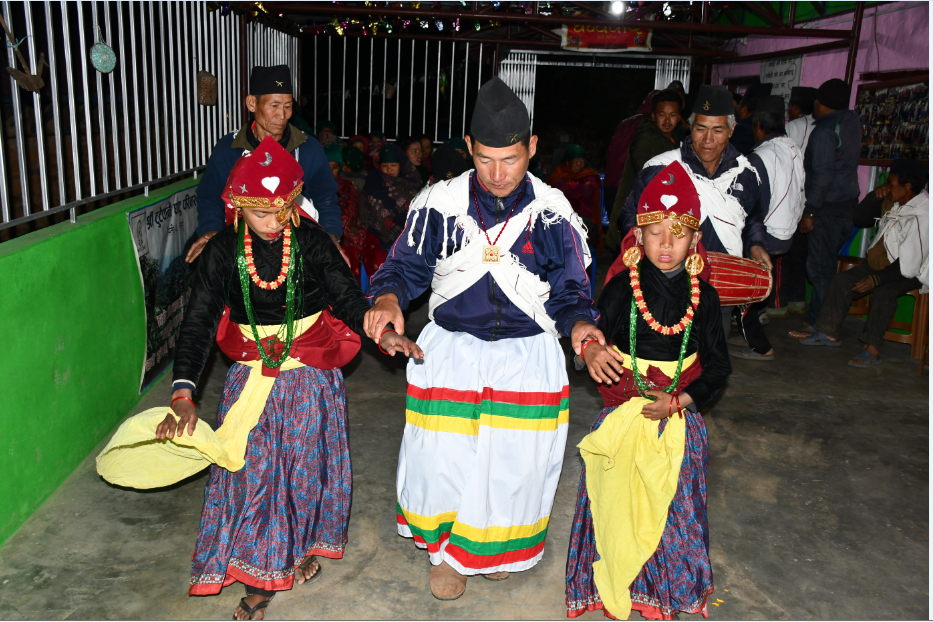 How to reach:
Kathmandu-Damauli 147 km, 5 hours by bus.
Damauli-Tutepani 24 km.
Contact: Amar Gurung-9846296382
12. Jamuwa: Home Stay In Nepal
Kanchanpur Municipality-6 of Saptari district is a pure Tharu settlement. You can visit Kositappu nearby. The attractions of Kositappu are the wild buffalo Arna, the bird, the Koshi river and the forest.
The area of ​​Kositappu Wildlife Sanctuary is 175 sq km. Tourists can take jeep safaris, jungle walks, elephant safaris and boat rides. There are 441 barns in Kositappu listed in the Ramsar list. Similarly, 300 species of native birds. Migratory birds come from Siberia in winter.Home stay facility is available in 7 houses of Jamuwa village. Lifestyle and culture can be observed there.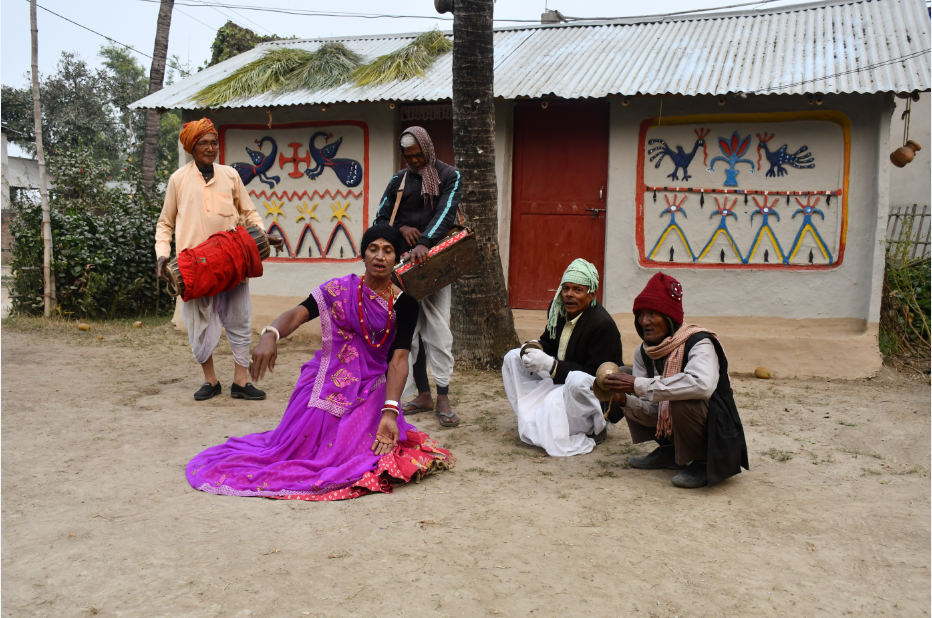 How to reach:
Kathmandu-Kositappu 500 km or Kathmandu-Biratnagar air travel 35 km.
Biratnagar-Kositappu 47 km.
Contact: Nandlal Majhi-9841293520
---
---