Have you visited these places In Nepal?? If Not,Don't Miss It
---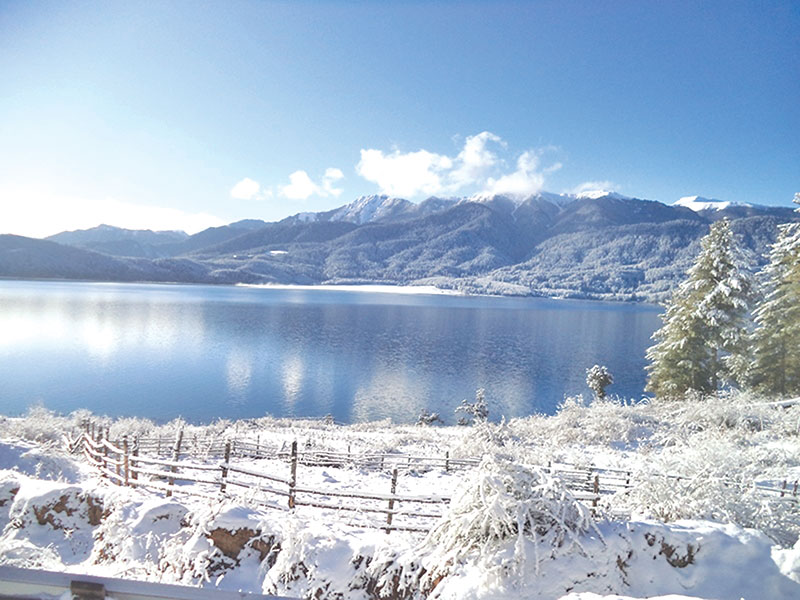 Rara Lake : Places In Nepal
                                                   Places in Nepal,You must Visit
Nepal is the country with the immense Natural Beauty. There are many places in Nepal to visit. Hence they often call as " Once is Noe Enough" Lately, the practice of wandering around is also increasing among Nepalis. Taking the opportunity of the festival, the practice of visiting various new places in the country is increasing.
As the trend of sightseeing increases, so does the identification of new natural and cultural destinations. Nepal is rich in diverse cultural and natural attractions and has many beautiful places. Adventure tourism, water tourism, wildlife tourism, trekking, mountain climbing as well as diverse culture in Nepal, there are many destinations where you may not have reached?
Rara Lake
Rara Lake is the one of most adventurous and mesmerizing places in Nepal to visit. For those looking for a great holiday destination, Mugu's Rara can be a great option.When you reach Rara, also known as the paradise of the earth, anyone can forget the natural beauty.Rara can be easily reached in 2 days by road from Surkhet. Rara can be observed on the same day as the flight from Surkhet, the headquarters  of Karnali.
If you want to go by plane, you can only see Gamgadhi of Mugu, Talcha Airport and Rara, so the road from Surkhet to Rara can be useful. It takes at least 6 days for Rara from Surkhet to Rara. The public bus fare from Surkhet to Mugu's Talcha Airport is Rs 1,700.On the first day of walking from Surkhet, one can easily reach Nagma of Kalikot through Rakum Karnali via Ranimatta of Dailekh. You have to travel 93 kilometers from Nagma. The road from Nagma to Rara has been graveled.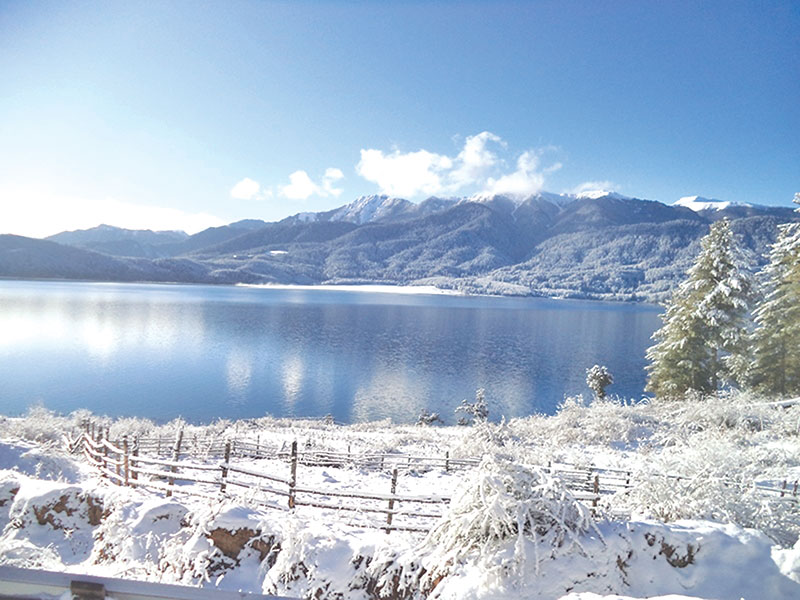 If you walk from Nagma, the place to eat is Gothi Jiula (Sinja) in the present Kankasundari village municipality, Jumla.As the capital of the Khas kingdom, with the palace of the great king, the temple of the goddess Kankasundari and the Pandava cave, the Sinja region is beautiful. After eating there, you can park your car at the border of Mugu district and walk for about half an hour.
Rara can be reached in an hour by walking along the shores of Rara. Rara Yatra also offers an opportunity to see the scenery of high mountains.The public bus fare from Surkhet is Rs 1,700 per person. If you rent a jeep, you can go around 30 to 40 thousand (up to 10 people). When you reach Rara, you get a minimum of Rs. 1000 rupees room,per plate 500 of one time meal and Rs.100 for a bottle of Drinking water.
 Sauraha, Chitwan
Sauraha of Chitwan is also considered as one of the best tourist destinations and places in Nepal to visit. Especially Sauraha is famous for wildlife tourism. Sauraha's tourism is concentrated in Chitwan National Park and its animals and birds. Elephant safari jungle safari, wildlife watching, boat rides on the Rapti river, sunset watching, Tharu culture observation are the attractions of Sauraha.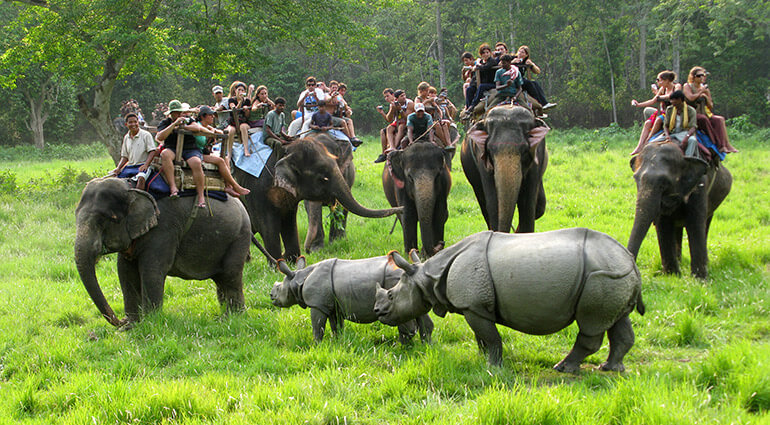 As there are plenty of star hotels in Sauraha, Nepalis have plenty to celebrate holidays including Dashain. In Sauraha, elephant safaris are run by cooperatives. The cooperative has been charging Rs 800 for elephant jungle safaris, Rs 1,000 for Indian tourists and Rs 1,500 for foreign tourists.Sauraha is located in Chitwan District of Narayani Zone, Central Development Region of Nepal. To reach Sauraha, it is at a distance of 165 kilometers from Kathmandu via Prithvi Highway. It takes at least Rs 10,000 to come from Kathmandu with a two-night package to visit this places in Nepal.
Khaptad
Khaptad, considered to be the spiritual geography of the beautiful Far West,This place in Nepal has come to be known as the paradise of the earth. In the Skanda Purana, it is believed that Yudhisthira went to heaven through Khaptad called Khecharadri and there is a spiritual history that Khaptad Baba lived in Khaptad for half a century.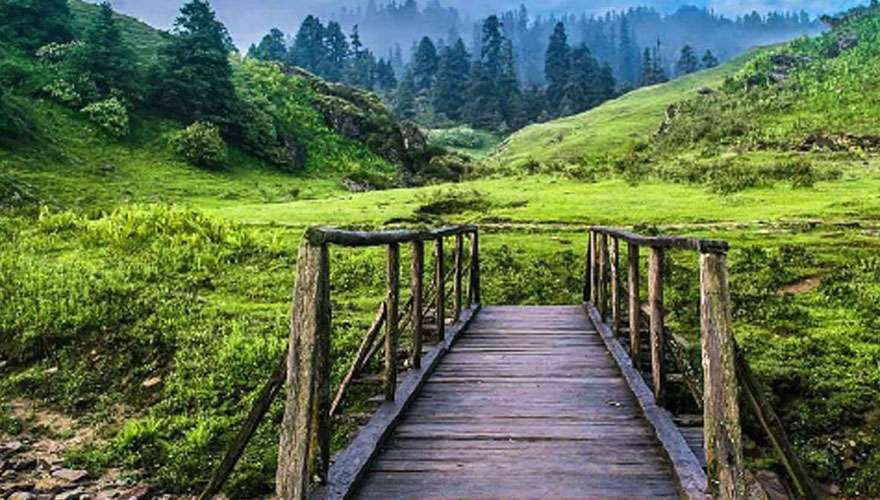 There are religious temples including Tribenidham, Sahastralinga and Kedardhunga in Khaptad. A fair is held in Tribenidham during Ganga Dussehra. There is a belief that bathing in Tribeni will save one from sin. Khaptad is 3276 meters above sea level. There are 22 roofs. A variety of birds, plants and herbs are found. Khaptad National Park, spread over 225 square kilometers, falls in Bajura, Doti, Bajhang and Achham.
The Kathmandu-Dhangadhi highway is 662 kilometers long. However, Dhangadhi can be reached in 55 minutes by air from Kathmandu. Dhangadhi-Silgadhi 200 km. Eight hours by bus. Or Kathmandu-Dhangadhi 1 hour flight. After walking from Silgadhi, the district headquarters of Doti, one night stay in Zigranam and the next day you walk for 8 hours to reach the park headquarters. Going to Khaptad from Kathmandu costs a minimum of Rs 30,000 per person.
Muktinath
Located in Mustang district, Muktinath is considered as an excellent religious and natural destination. Muktinath, located at an altitude of 3,800 meters above sea level, is also considered a common pilgrimage site for Hindus and Buddhists. It is believed that after bathing in 108 streams of this place in Nepal after visiting the temple, sins are washed away.
In Muktinath's hands are large statues of Narasimha Gumba, Jwalamai temple, Buddha under Shakyamuni and Guru Padmasambhava. There are two dozen hotels and two hospices in Ranipowwa Bazaar under the temple.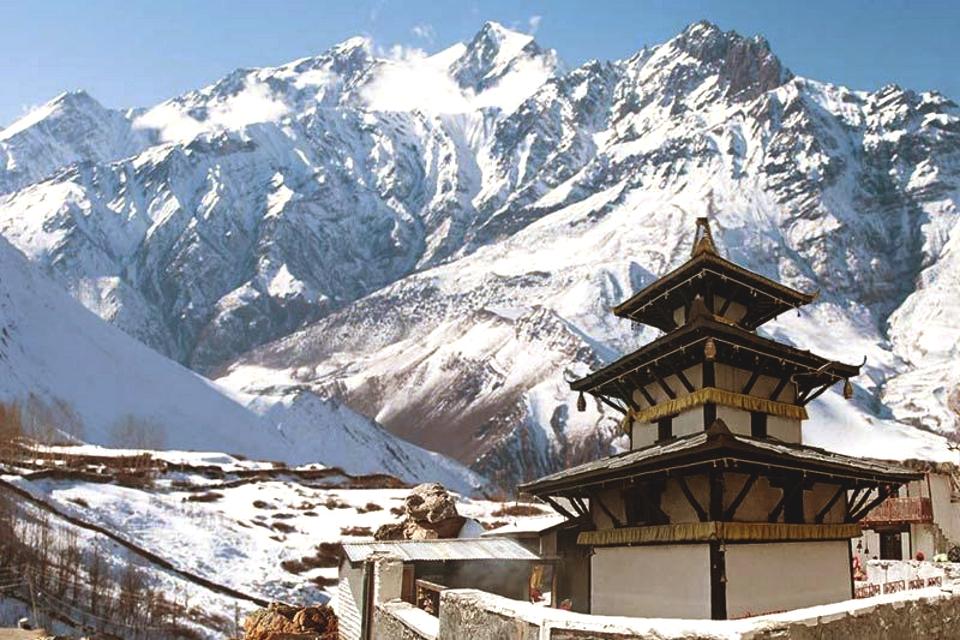 When you set out on a journey from Kathmandu to Muktinath, you must first reach Beni. Beni is 282 kilometers from Kathmandu. Then Beni-Jomsom is 75 kilometers. However, the flight from Jomsom to Pokhara is only 18 minutes. Then Jomsom-Muktinath is only 22 kilometers.
One can spend a night in Thini village, two kilometers south of Jomsom. Jomsom-Muktinath jeeps and buses run. Jeeps and motorbikes reach Thini.
Kalinchok
Kalinchok,This place in Nepal is located in Dolakha district which can also be considered as a holiday destination. Kalinchok is a power back of 3,700 meters above sea level. There are idols of Bhagwati, Ganesha and Shiva Parvati Kunda. People believe that the Kalinchok philosophy will fulfill their desires.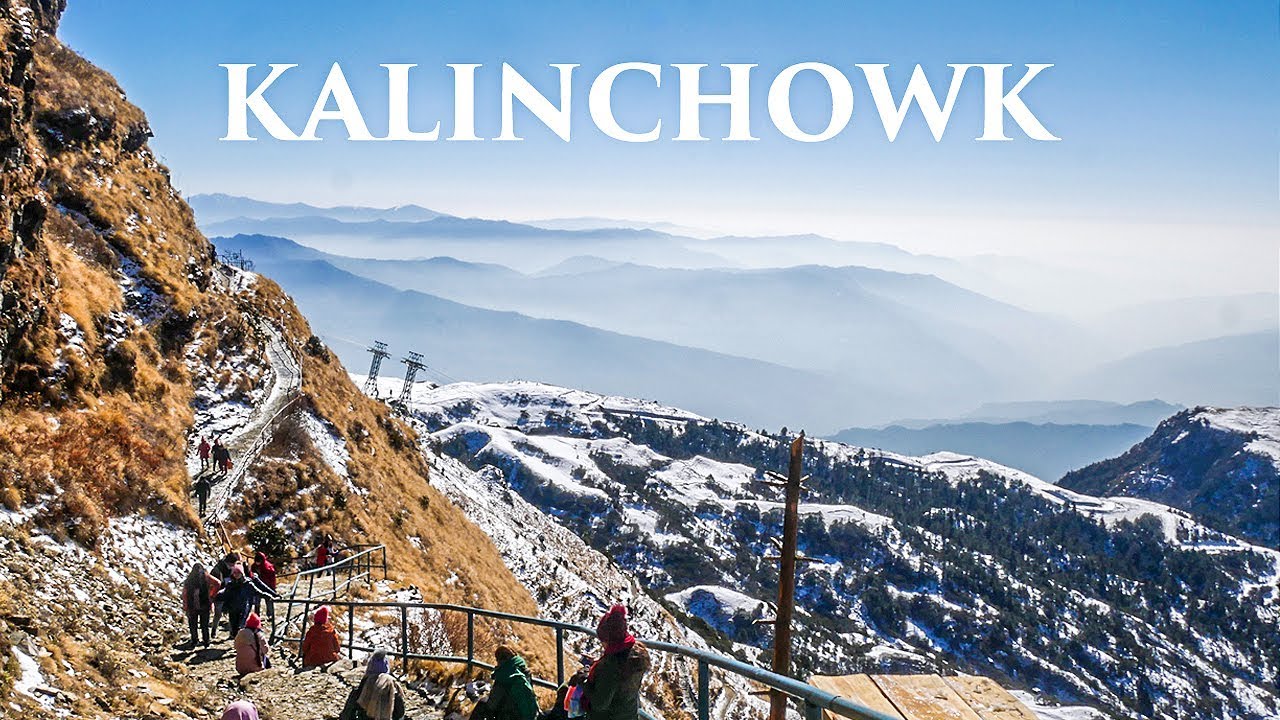 There are ample hotels in Kalinchok Base Camp Kuri Bhanjyang. Where rooms are available for five hundred to three thousand rupees. It takes an hour to walk from Kuri Bazaar to the temple. Kalinchok offers interesting views of sunrise, sunset and mountains. From there, Langtang, Gaurishankar, Numbur to Everest can be seen. Kathmandu-Charikot is 133 kilometers long and Charikot-Kalinchok is 17 kilometers away. It takes 6 hours to reach Charikot by bus from the old bus park of Kathmandu and 2 hours by jeep to reach Kuri from Charikot.
Lumbini
Lumbini, the birthplace of Lord Buddha, the symbol of peace, can also be considered as an excellent holiday places in Nepal. Lumbini, located at a distance of about 300 kilometers from Kathmandu, is considered to be very famous for its historical views. It is still considered one of the best destinations for Buddhists around the world.
There is a Mayadevi temple in Lumbini. The temple contains ruins from the third to the seventh century BC.There is also a stone commemorating Siddhartha's birth. There is a fourth century statue. That reflects Siddhartha's birth. Lumbini was inscribed on the World Heritage List by the United Nations Educational, Scientific and Cultural Organization (UNESCO) in 1997 after experts unearthed a pillar and stone during excavations at Lumbini from 1992-1996.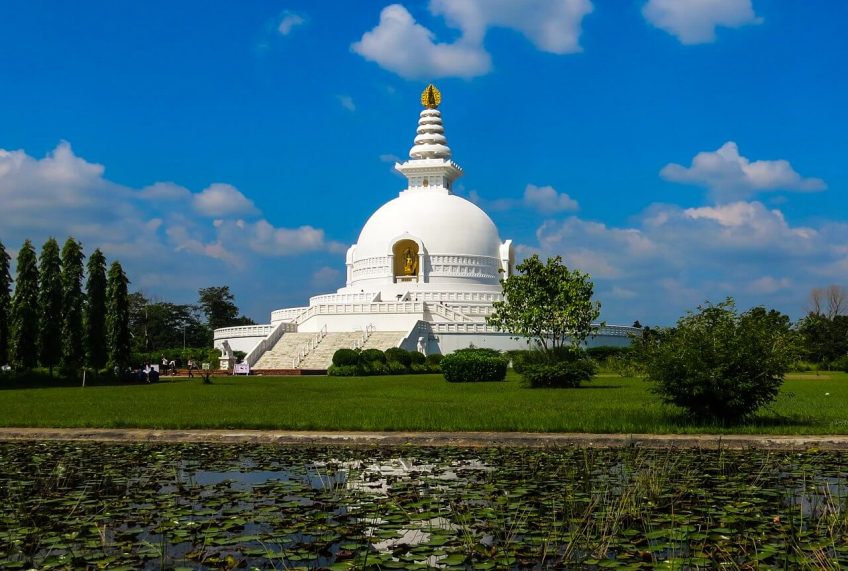 As Lumbini is a large area, you have to travel by rickshaw, bicycle and taxi. There are monasteries of different countries in the monastery area. There is a canal in the middle. Boats run on 1600 meters of the canal. On one side of the canal is the lamp of unbroken peace. There is the Lumbini Museum. Once there are small and big hotspots in Lumbini, you can stay for 2-3 nights. At present, hotels in Lumbini sell tour packages ranging from Rs 6,000 to Rs 10,000 for two nights and three days.
Halesidham
Halesidham,one of the sacred places in Nepal is considered a common pilgrimage site for Hindus, Buddhists and Kirantis. Halesi philosophy has the belief of liberation from misery, promotion, liberation from drought, benefit of children and good health. The cave has Dharmadwar, Janmadwar and Papadwar. There are two large caves and other caves nearby.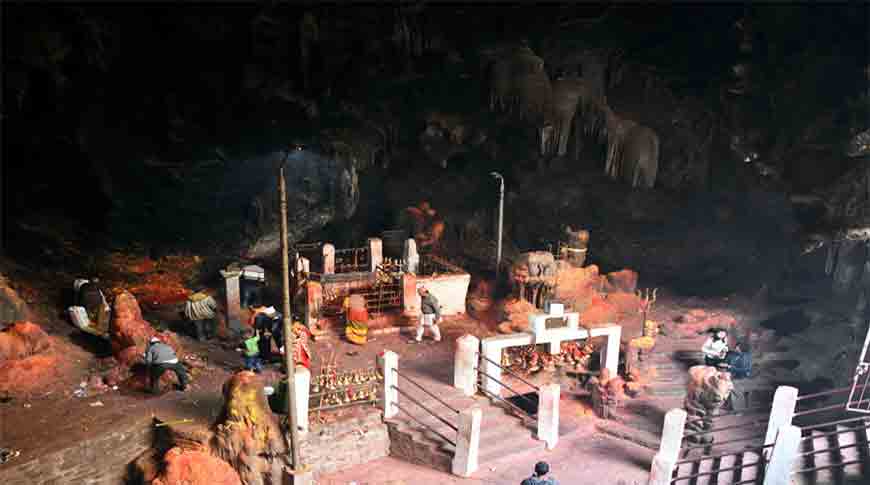 Nepalis usually stay one night in Halesi. There are medium-sized hotels. There is a water problem.From Khurkot section of Banepa-Bardibas road from Kathmandu, it is 216 kilometers to reach Halesi from Ghurmi via Mid-Hill Highway. Jeeps leave Chabahil and Koteshwar in Kathmandu. Halesi can be reached in 10 hours by jeep.
Pokhara
Pokhara is also a very beautiful places in Nepal. In a small valley in Pokhara, there are many things to enjoy. Adventure sports like mountains, lakes, caves, temples, monasteries, rivers and waterfalls, paragliding, ultralights, bungee jumping can also be played there.
Dozens of mountains including Machhapuchhre, Putha Hiunchuli, Dhaulagiri, Moditse, Annapurna, Ghandruk, Hiunchuli, Nilgiri, Mardi Lamjung and Manaslu can be seen from there.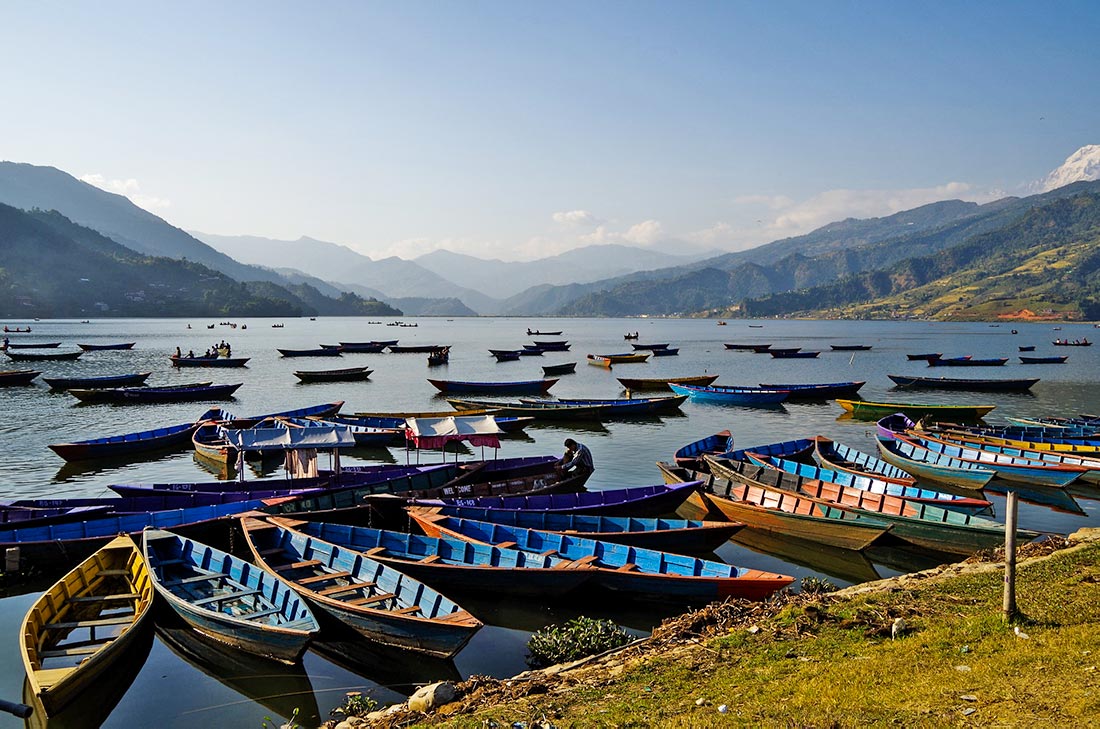 There are beautiful lakes including Fewatal, Begnas Lake, Rupa, Khaste, Dipang, Gunde, Maidi and Neureni in Pokhara.It costs at least Rs 10,000 to stay in Pokhara for two nights. To reach Pokhara from Kathmandu, one has to cover a distance of 200 kilometers. Buses and microbuses have been plying from Kalanki in Kathmandu since morning. Similarly, Pokhara can be reached in 30 minutes by air.
There is a sarangi settlement in Batulechaur of Pokhara, which is rich in culture. There are five museums in Pokhara.It costs at least Rs 10,000 to stay in Pokhara for two nights. To reach Pokhara from Kathmandu, one has to cover a distance of 200 kilometers. Buses and microbuses have been plying from Kalanki in Kathmandu since morning. Similarly, Pokhara can be reached in 30 minutes by air.
Ilam
Ilam, is famous places in Nepal  for its Chiabari, is also an excellent destination. Grand Governor Gajraj Singh Thapa planted tea in the district headquarters in 1920 BS.
Rai, Limbu, Bahun, Kshatriya, Magar, Newar, Sherpa, Lapcha and Madhesi faces are found in the beautiful Ilam Bazaar. Maipokhari, Sandakpur, Kanyam, Antudanda, Chintapu, Miklajong, Todke Jharna, Mangmalung, Siddhithumka, Gajurmukhi, Mykhola, Pathibhara, Mangalbare and other beautiful places to visit.

After entering from Charali of Mechi Highway, Chiabari welcomes Kanyam. You can go by car or bike on the winding roads in the middle of the garden. Sandakpur, the highest hill of Ilam, is at an altitude of 3636 meters. Dozens of mountains including Kumbhakarna and Kanjanjangha can be seen from there.
You have to pay around Rs 10,000 to pay the bus fare and spend two nights in Ilam. After traveling 690 km from Koteshwor in Kathmandu, you reach Ilam Bazaar in about 14 hours.
Swargadwari
Swargadwari in Pyuthan district is also a religious places in Nepal. From there, Dhaulagiri, Nilgiri, Machhapuchhre, Annapurna, Lamjung, Himachuli, Manaslu, Churen, Puthal and other mountain ranges can be seen. Swargadwari is famous for its religious reasons rather than its natural beauty.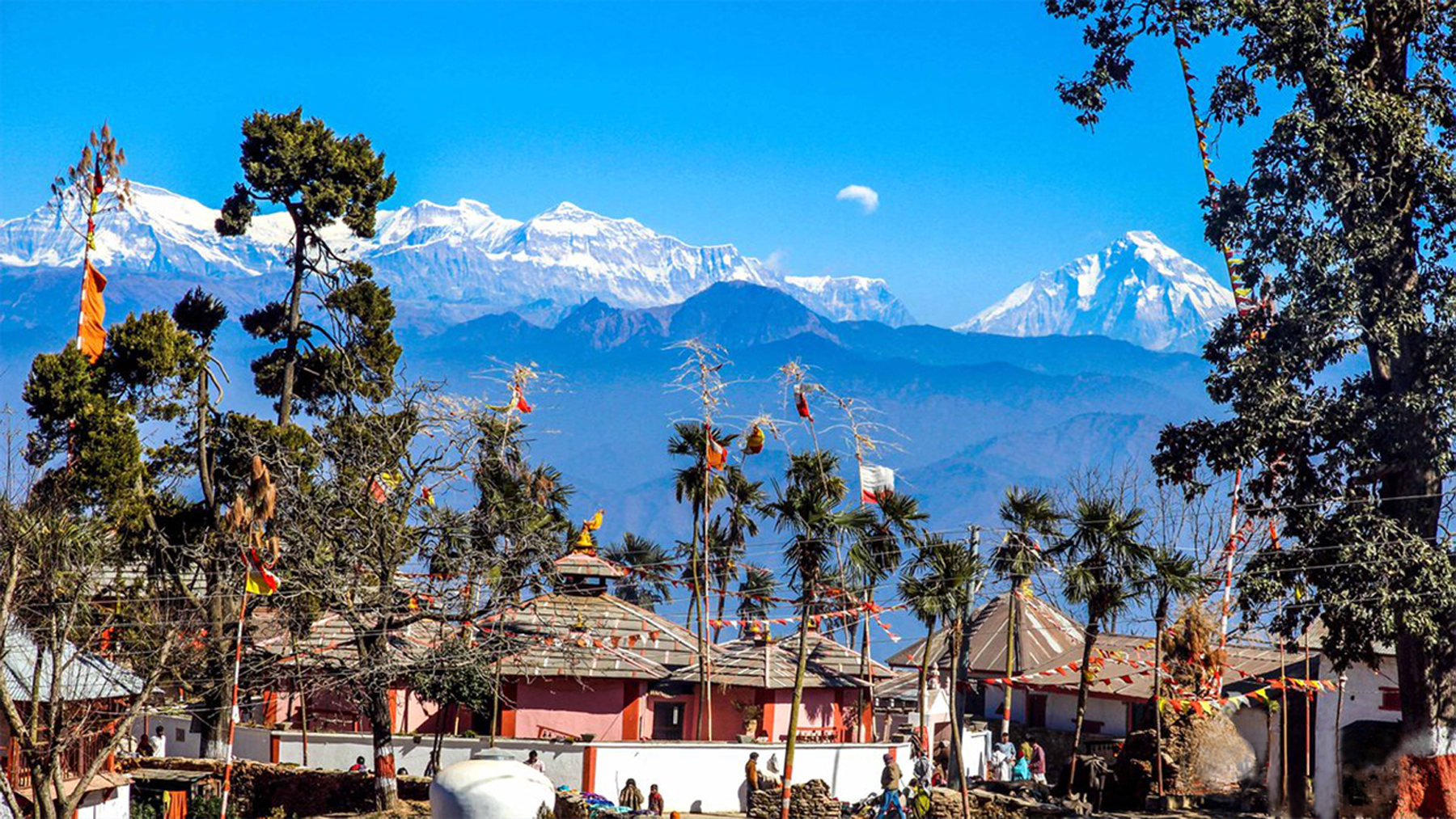 Swargadwari is at an altitude of 2,048 meters. There is a legend that Swargadwari is the door to heaven as the five Pandavas went to heaven from here.
There are hundreds of cows in Swargadwari, there is a gurukula school. Rs 10,000 is enough to spend two nights at Bhingri Hotel and one night at Swargadwari, eat and pay bus fare. After spending one night in Bhingri by taking a bus from Kathmandu to Rolpa, you can reach Swargadwari on a four-hour uphill trek the next day. Kathmandu is at a distance of about four hundred and fifty kilometers.
Bandipur
Bandipur, the old headquarters of Tanahu, is also an excellent tourist places in Nepal. Bandipur is inhabited by Gurungs, Magars, Newars, Kshatriyas and Brahmins. Dhaulagiri, Machhapuchhre, Annapurna, Lamjung, Manaslu, Himachuli, Boudha, Dorje Lakpa, Ganesh and Langtang mountain ranges can be seen from Tundikhel near the market.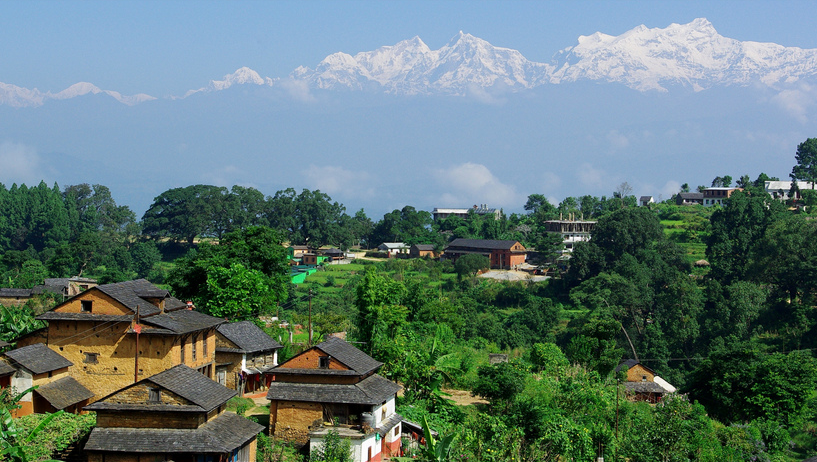 There are plenty of hotels and homestays in Bandipur.From Kathmandu, take a bus to Dumre via Muglin and reach Bandipur Bazaar at a height of eight kilometers. Buses and jeeps to Bandipur are available in Dumre.
Bhedetar
Bhedetar in Dhankuta district has recently become an excellent places in Nepal for domestic tourism.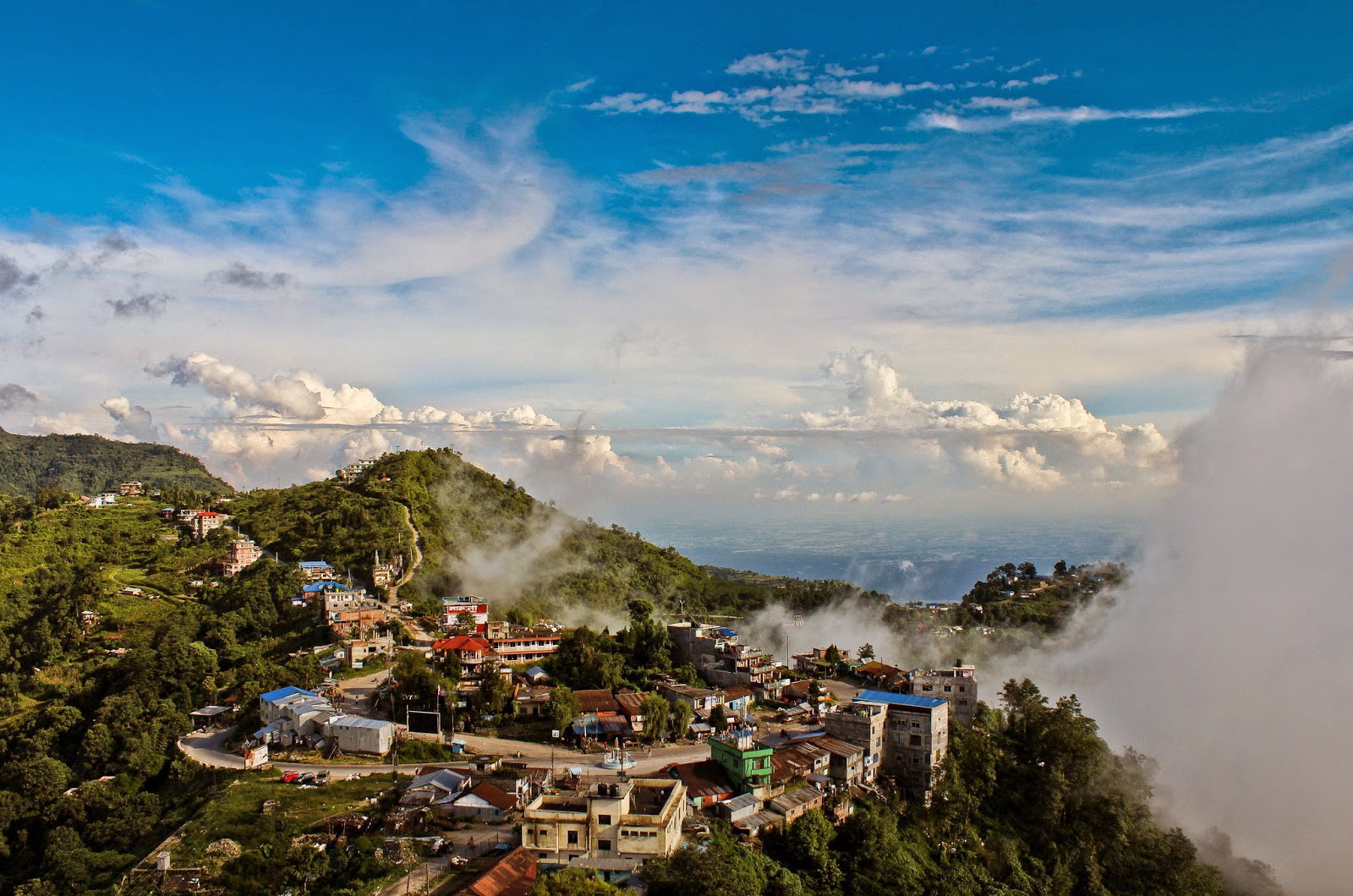 Located on the border of Sunsari and Dhankuta districts, about 17 km north of Dharan sub-metropolis, Bhedetar is located in a hilly area at an altitude of 1,430 m above sea level. Where you can enjoy the cool environment and see the beauty of the hills and mountains. From the view tower of Bhedetar, one can see the panoramic view of Saptakoshi, the plains of the Eastern Terai as well as the mountain ranges like Makalu, Kanchenjunga and Kumbhakarna.
---
---