Kisan Caste : Indigenous Inhabitant of Far Eastern Side of Nepal
---
Kisan Caste
The Kisan Caste living only in Jhapa, the far eastern district of Nepal, is an indigenous tribe of Terai origin. According to the Adivasi Janajati Utthan Rashtriya Pratisthan Act, 2058 BS, out of 59 Adivasi Janajatis listed, this caste has been placed in the endangered group. This caste, which has been excluded from the mainstream of the state, has been portrayed by various scholars as the indigenous son of Nepal.
According to the 2068 census, the population of Kisan is 1,739. This caste, which is backward due to economic, social, political and educational reasons, is on the verge of extinction in Nepal. Looking at the religion, culture, traditions, etc. that they believe in, this caste looks like a nature worshiper. Kisan, known as a malaria-free caste, initially settled in deforestation.
This caste, which wants to live separately from other castes, is currently forced to relocate from its ancestral land due to the rapid migration of other castes. At the same time, the influence of other cultures has led to the disappearance of religion and culture of this caste. They are currently living in Shantinagar, Dhaijan, Bahundangi, Anarmani VDC and Mechinagar Municipality of Jhapa District.
Language of Kisan Caste
The language spoken by the Kisan Caste is called 'Kisan Bhasha'. This language does not have its own script. Therefore, they use the Devanagari script as a written tradition. According to the census of 2058 BS, there are 489 speakers of Kisan language. However, the official organization of the peasant caste is of the opinion that the number of speakers of peasant language is more than that number. Apart from the peasant community, this language is also spoken by other castes of Jhapa district (Munda, Khadiya, Uravan, Rautiya, Kawar, Malpahade, Gwal, Karuwa).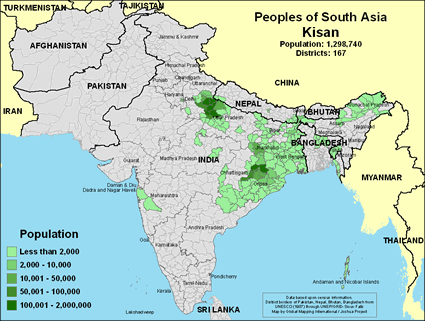 However, among them Munda, Khadiya and Uravan have their own mother tongue. Therefore, this language has been established as the language of communication among the mentioned tribals. The language spoken by the peasant community was placed under the Dravidian family by linguists Mark Turin and Dr. Yogendra Prasad Yadav (see Turin and Yadav, 2005).
However, the archiving conducted jointly by the Adivasi Janajati Utthan Rashtriya Pratisthan Jawalakhel, Lalitpur and the Central Department of Linguistics, Tribhuvan University, Kirtipur has confirmed that the Kisan language belongs to the Bharopeli family. Various materials in this language are being published twice a month on the New Nepal page of Gorkhapatra daily. Apart from Nepal, this language is also spoken in India and Bhutan.
---
---